Meet Our Team!
Teri Francis – Office Manager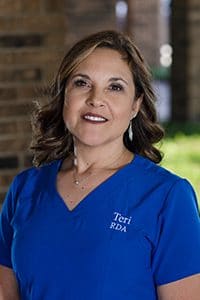 Teri graduated as a Registered Dental Assistant from Collin County Community College in 2007. In 2009, she joined our practice as the Office Manager. She loves working for a team that treats patients as family and appreciates that her patients trust her to help them obtain their best smiles. Outside of the office, Teri enjoys reading, swimming, and playing with her grandchildren.
"Live life to the fullest."
Janis Henslee – Registered Dental Hygienist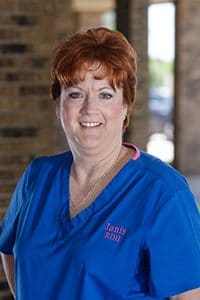 Janis obtained her Associate of Applied Science in Dental Hygiene from Tyler Junior College in 2010. Prior to becoming a hygienist, Janis graduated from Grayson County Community College Dental Assisting Program and worked in that field for 15 years. Janis joined our practice in 2010. She is certified in pit and fissure sealant placement and nitrous oxide monitoring. She is a member of the American Hygiene Association. Janis loves the opportunity to help patients lead healthier lives and enjoy brighter smiles. Outside the office, Janis enjoys reading, camping and traveling.
"Keep your face to the sunshine and you cannot see a shadow." -Helen Keller
Jerri Borchardt – Registered Dental Assistant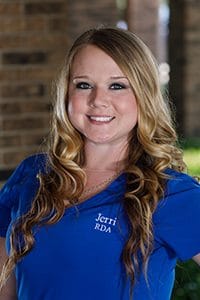 Jerri graduated in 2012 with a degree in Dental Assisting. She then joined our team in 2017. She's earned certifications in administering nitrous oxide and pit and fissure sealant placement. Jerri loves working with our team and meeting new patients. She appreciates the opportunity to get to know her patients on a personal level. Jerri is also a member of First Presbyterian, and outside of the office, she enjoys seeing new bands and spending time with friends and family.
"Live as if you were to die tomorrow. Learn as if you were going to live forever." -Gandhi
Anna Talley – Front Office Coordinator/ Registered Dental Assistant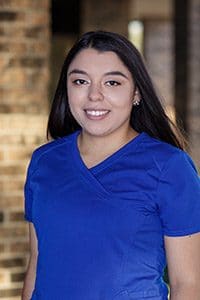 Anna obtained her Dental Assisting certification from the Ridley Lowell Business and Technical Institute in New London, Connecticut. She then joined our team in 2017. She has also obtained her certification in nitrous oxide monitoring. Anna strives to help her patients in any way she can, helping them feel comfortable and joining them on their dental journey in a positive way. She is a member of the Oasis of Blessings Church. She and her husband Marcus have two children, Jaydyn and Camila, and a dog named Sadie. Outside of the office, Anna enjoys crafts, fishing, and hanging out with her family.
"Be the change you want to see."
Kinsey Patton – Registered Dental Assistant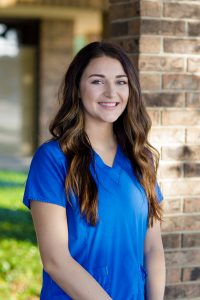 Kinsey graduated from Elite Dental Assisting in 2016, and earned her Associate of Applied Sciences degree at Paris Junior College in 2018. She has also earned an additional certification in nitrous oxide monitoring. A member of our team since 2018, Kinsey loves the dynamic of our office staff, and that her position allows her to help people show off their best smile. She also enjoys interacting with patients, getting to know them, and helping them feel comfortable throughout their visits. When she's not in the office, Kinsey appreciates any opportunity to travel, and loves spending her time with family and friends.
Schedule a Consultation with Our Dental Team Today
Meet our team in person and experience a friendlier, more comfortable dental experience! To schedule a consultation, call Smith Family Dentistry in Greenville, TX, today at 903-455-5750. We proudly serve patients from Hunt County, Greenville, Royce City, Sulphur Springs, and all surrounding communities.