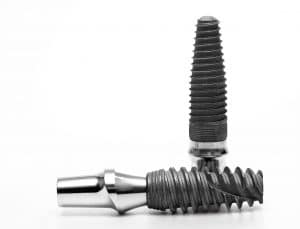 When you lose a tooth, you may feel embarrassed about your appearance. We understand, and have treatment options available to help rebuild smiles. We can replace a tooth, often with a unique and long-lasting prosthetic. What benefits will dental implants offer your smile?
Benefits Of Dental Implants
They Look Natural: Each single tooth implant will be topped with a custom-made dental crown. We create them using ceramic, a lifelike material that is also stain-resistant ad very durable. If you're receiving a prosthetic, once again we will custom-make it to ensure your new teeth blend seamlessly with your smile.
Long Lasting Tooth Replacement: A bridge lasts about 10 to 15 years, but a denture may only last between 5 and 10 years. Since dental implants act as new tooth roots and bond with the jawbone they can last for decades and with proper care and attention, potentially even a lifetime.
Prevention of Jawbone Deterioration: When you lose a tooth, the body notices. Once a root is missing, the body stops sending doses of calcium and phosphorus to the surrounding jawbone. Without these key nutrients, the bone tissue actually dissolves, leading to further tooth loss and in serious cases, a prematurely aged appearance. However, dental implants are recognized by the body as new tooth roots, causing the body to resume the flow of nutrients.
They can Address Minor and Advanced Tooth Loss: We can replace a single missing tooth, or support a dental bridge. For more severe cases of tooth loss, we can even secure a full or partial denture. You can obtain a beautiful and full smile you'll be excited to show the world. If you have any questions or concerns about tooth loss or replacing missing teeth with dental implants, then please contact our office today.
Do You Need Tooth Replacement?
Dr. Smith can help patients with one or more missing teeth enjoy a full smile again. To schedule a consultation with Smith Family Dentistry in Greenville, TX, call us at 903-455-5750. We proudly serve patients from Hunt County, Greenville, Royce City, Sulphur Springs, and all surrounding communities.