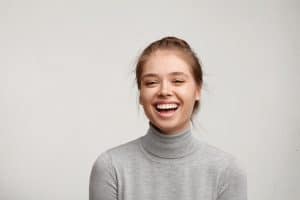 When you lose a tooth, it can make you feel embarrassed about your smile's appearance. Losing a tooth can also negatively impact your abilities to bite, chew, and speak. A lost tooth can also contribute to deterioration of your jawbone. A dental implant can provide benefits to a smile that has lost a tooth. A dental implant can provide a foundation for a replacement prosthetic that can restore your function and appearance. A dental implant can also help prevent bone loss in your jaw. 
Lifetime Replacement
A dental implant helps to ensure that your tooth's prosthetic replacement is anchored securely in your smile. The implant becomes fused to your bone and tissues to provide a potential lifetime of support. Your crown, bridge, or dentures are more likely to last longer in your smile with a dental implant anchor.
Create A More Natural Appearance
When a prosthetic tooth is anchored by a dental implant, it has a more natural appearance against the gum line. A dental implant replaces the roots of your tooth, while a crown, bridge, or dentures replace the body(ies) of the tooth.
Lower the Risk of Jawbone Loss
Your body takes notice when you lose a tooth. This is because the roots of your tooth provide important stimulation to your gums and jawbone. Without this stimulation, your body may stop sending doses of calcium and phosphorus to the surrounding jawbone. Without these essential nutrients, the bone tissue can begin to deteriorate, which can lead to further tooth loss and softened jawbone. Dental implants can provide stimulation to the bone causing the body to resume the flow of nutrients. A weakened jawbone can endanger both your remaining natural teeth and the fit of your prosthetic. Therefore, a dental implant can protect your remaining teeth and smile.
Can a dental implant benefit your smile?
Dr. Smith can help you determine if a dental implant is the right fit for your smile. To schedule a consultation with Smith Family Dentistry in Greenville, TX, call us at 903-455-5750. We proudly serve patients from Hunt County, Greenville, Royce City, Sulphur Springs, and all surrounding communities.