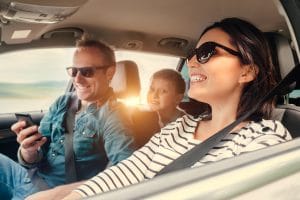 It is the height of summer in Greenville, TX, which means it is hot. Very hot. You and your family may like to get out of town for the summer (perhaps to somewhere cooler). Traveling during the summer could be a short road trip to a nearby Texas destination, a longer road trip up to a cooler place, cruises, plane trips abroad, or if you're extremely lucky, all of the above. No matter the type of vacation you go on, it is important to remember to take care of your mouth and smile. Harmful oral bacteria does not go on vacation, which means your hygiene vigilance must stay intact. 
Packing Tips
If you are traveling by plane, you will be have to be mindful about the liquids you take. Travel-size mouthwash, toothpaste, and floss is often enough depending on how long your vacation is and how many people are sharing them. A travel cap for your toothbrush is helpful for keeping it clean and keeping the bristles unharmed.
Use What You Pack
Packing all of your oral hygiene essentials does no good to anyone if you don't use them. Routines often go out the window when you are on vacation. In fact, throwing out routines is often the biggest part of a vacation, but you must remember to keep up with your smile's health. Brushing at least twice a day and flossing at least once can help prevent harmful oral bacteria from building up on your teeth and along your gums.
Check-Up Before You Go
Planning a dental exam before a long vacation or a big event can be a helpful way to prevent any surprises. Your dentist can often identify a potential problem before it erupts into something unavoidable. For example, a cavity that you may not know you have can be dealt with simply when caught early. If left to progress, it can turn into a painful toothache while you are on vacation.
Do you have a family vacation coming up?
Taking care of your smile is important no matter where you are. To schedule a consultation with Smith Family Dentistry in Greenville, TX call us at 903-455-5750. We proudly serve patients from Hunt County, Greenville, Royce City, Sulphur Springs, and all surrounding communities.