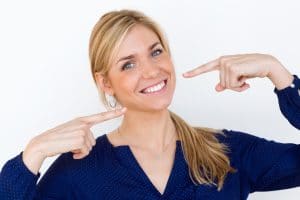 There is a common misconception that crooked teeth only affect the way that your smile looks. Unfortunately, misalignment of your smile can affect your oral health by increasing your risks of tooth decay and gum disease. Straightening your smile can decrease these risks and help you keep your smile in good health. Invisalign treatment can help adults and youth achieve straighter smiles with discreet, clear aligners. If you live in Greenville, TX, ask your dentist to see if you qualify for Invisalign treatment to get all the benefits of a straighter smile. 
Confidence in Appearance
Did you know that just the act of smiling can improve your mood? Moving the muscles that control smiling can signal to your brain that you are happy. So, if the alignment of your teeth keep you from smiling, think of all the good moods you are missing out on. One of the most important benefits of straightening your smile is improving your confidence in your smile's appearance. Without insecurity about the way your teeth look, you may feel more inclined to show off your smile and improve your mood.
A Healthier Mouth
Your confidence in your appearance is important, but it may not be quite as important as your health. Crooked teeth are harder to clean, which makes them harder to keep healthy. When teeth overlap, it can create multiple places for harmful bacteria to hide during your hygiene routine. This hiding bacteria may get left behind after several sessions of brushing and flossing; this can give it plenty of time to cause tooth decay and/or gum disease. Misalignment can also lead to grinding, which can damage your teeth. It can also put excess strain on your jaw, which can lead to TMJ disorder, a painful dysfunction of the temporomandibular joints of your jaw.
Are you ready to straighten your smile?
A straighter smile can lead to a healthier smile. To schedule a consultation with Smith Family Dentistry in Greenville, TX call us at 903-455-5750. We proudly serve patients from Hunt County, Greenville, Royce City, Sulphur Springs, and all surrounding communities.