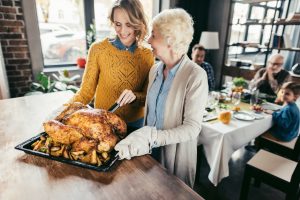 Thanksgiving is next week! Can you believe that 2018 has moved by so quickly? Whether you are staying in Greenville, Texas or going somewhere else for your Thanksgiving feast, we have some tips to help you and your family keep it healthy for your smiles. If you are the host of the meal, you can lead the way on some of these smile-friendly choices. Even if you are attending someone else's big turkey day, you can still go in with a plan to keep your smile's health at the top of your mind. 
Start Off with Veggies
A raw vegetable tray can be a great option for an appetizer. While everybody waits for the main course, an appetizer helps to keep the tummy happy. Raw vegetables also have a great fibrous nature and they are filled with water. This means that chewing them can activate your saliva production and start to help clean your teeth. Pairing crudites of veggies with a yogurt dip can give you a calcium boost for your teeth's health.
Choose Tap Water
It can be tempting to just completely give into the indulgence that is a Thanksgiving feast and just have soda with your meal. However, the bubbles can help add to a full feeling. Dark soda especially can be very erosive to your teeth's enamel. When choosing a drink to pair with your meal, opt for tap water. Most tap water is fluoridated, which can help mineralize your teeth. Water can help rinse your smile along the way, so that the remains of anything potentially harmful (such as a sticky pecan pie) can help move away from your teeth.
Have a Healthy Side
Again, it can seem tempting to just go all the way in on unhealthy indulgences. When planning your Thanksgiving meal, try to balance it out with a healthy version of at least one side. Try simply sauteed green beans or Brussels sprouts. Roasted sweet potatoes can be a healthier option than candied yams with marshmallows on top. Aim for balance!
Plan ahead for a healthy Thanksgiving!
These few tips can help you have a healthy and happy Thanksgiving! To schedule a consultation with Smith Family Dentistry in Greenville, TX call us at 903-455-5750. We proudly serve patients from Hunt County, Greenville, Royce City, Sulphur Springs, and all surrounding communities.