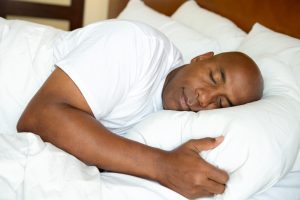 What is a good night's sleep truly worth to you? Even a short period of poor rest can be emotionally taxing, and frustrating. Bruxism can interfere with your ability to refresh yourself, as you can awaken with feelings of pain in your teeth, face, and jaw joints. If the problem goes untreated, the problem can escalate, leaving you with worrying dental damage. Your Greenville, TX dentist understands that bruxism can intrude on your life, and pose a serious threat to your smile. You can seek treatment through the creation of a custom oral appliance to wear during rest. Once in place, your appliance will keep your teeth safe while you sleep, and help you avoid harm. If you have already experienced some dental damage, you can review treatment options with your dentist.
Bruxism Can Do Serious Harm To Your Teeth
People who struggle with bruxism can fail to realize just how often, and how forcefully, they grind their teeth. This is because the problem often takes place while they sleep, leading to surprising bouts of soreness in the mornings. If the issue is not addressed, it can eventually lead to wear and tear, or even problems with chipped or cracked teeth. It is possible to cause enough harm to require restorative dental care, including the placement of dental crowns on particularly damaged teeth.
Keeping Up With Your Smile Needs Will Help You Limit Your Smile Risks
How many opportunities do you have to make sure you are enjoying good oral health. Patients who attend semiannual dental exams can enjoy early detection and treatment from a number of different problems. While you can certainly count on support in terms of identifying cavities and gum disease, your dentist can also discuss findings that suggest other issues, like bruxism, which may be threatening your smile.
Talk To Smith Family Dentistry If You Need To Address Teeth Grinding Problems
At Smith Family Dentistry, patients who experience oral health struggles due to bruxism can look forward to quality care. Our practice is ready to help you put a stop to this matter, while also providing the care you need if your teeth grinding habit has already led to problems. You can arrange an appointment by calling Smith Family Dentistry in Greenville, TX, today at 903-455-5750. We proudly serve individuals from Hunt County, Greenville, Royce City, Sulphur Springs, and all other surrounding communities.