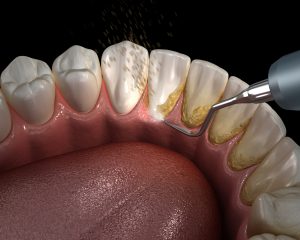 A routine cleaning is essential for helping patients of all ages enjoy healthy smiles, limiting the risk of everything from tooth decay and bad breath to gingivitis and gum disease. But what a deep cleaning? Also known as a scaling and root planing, this in-depth dental cleaning is often employed to reverse gingivitis or help manage gum disease. When should our Greenville, TX, patients undergo a deep cleaning?
The Scaling And Root Planing
A scaling and root planing involves the dentist removing all plaque from the surface of the teeth and the roots using an ultrasonic scaling device. By removing plaque and tartar, we help stop gum inflammation, also known as gingivitis. We can also ease the severity of gum disease, managing the disease and protecting your smile from the advanced stages responsible for adult tooth loss. The procedure could take one visit to complete, or up to four, depending on the severity of the buildup on your teeth and roots. We complete the procedure by polishing your smile, giving you a new start for your gum health.
Warning Signs of Gum Disease
When should you talk to your dentist about a diagnosis or treatment for gum disease? You should watch for any changes to your gum tissue. For example, if your notice they feel sore or appear more red than usual, or if they bleed easily when you brush or floss your teeth, this could indicate gingivitis or the early stages of gum disease. Remember, addressing the issue in a timely manner helps prevent tooth loss, which often occurs when the disease reaches the periodontitis stage.
Regular Dental Cleanings
In order to control plaque buildup and protect your smile, you need to have your teeth cleaned every six months. If you have high risk factors for gum disease, we may suggest one every three to four months. The procedure simply involves removing plaque from the teeth and is less intensive than a scaling and root planing. Regular removal of plaque helps protect the smile from inflammation and successfully manages periodontal disease.
In addition, you can take steps at home to safeguard your oral health. For example, avoid smoking and tobacco use. Be sure you brush your teeth twice daily and floss every night before going to bed. Enjoy healthier diets, with more water and fresh fruits and vegetables. These factors help reduce the risk of inflammation and periodontal issues. If you have any questions about our deep cleanings, or if you're ready to schedule one, then contact our team today.
Smith Family Dentistry Offers Scaling And Root Planing
Our team wants to help you enjoy a healthy smile, one free of periodontal disease. To learn more about our preventive treatment options, call Smith Family Dentistry in Greenville, TX, today at 903-455-5750.