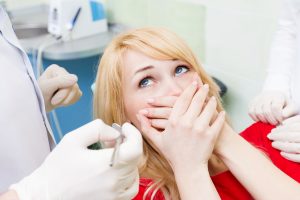 Did you know that studies show between 8% and 15% of people in the United States report some form of dental anxiety? For some, this is a general nervousness about visiting the dentist. Others, the fear could be crippling and impact their ability to undergo necessary treatment. For patients in Greenville, TX, with anxiety, we may recommend dental sedation.
Dental Anxiety
When we avoid routine care, such as six-month checkup and cleaning visits, this enables minor issues to develop. First, your smile may become susceptible to tooth decay. Later, gingivitis could form. Without treatment, this could soon lead to serious dental infections and even gum disease. After enough time, you could suffer from tooth loss as your oral health continues to deteriorate. You may also develop issues that impact your smile's appearance, such as discoloration. Don't let your worries about visiting the dentist stand between you and the care necessary to maintain optimal oral health. We strive to ensure each patient receives individual care and attention in a calm, comfortable environment. We're here to listen to your concerns and address your questions, walking you through the diagnostic and treatment process. If necessary, we also have sedation to help you stay relaxed.
Our Sedation Options
Before we prescribe one, we will assess your anxiety levels and look at your medical history. Then, taking into account the procedure or procedures you will need to undergo, we will prescribe a calming solution. First, we have nitrous oxide, a gas administered through a mask over the nose. The gas helps patients enter a calm state, with little to no memory of the procedure afterward, despite being conscious. The effects wear off almost immediately so you can return to work, school, or home by yourself.
Combining nitrous oxide with an oral sedative can help those with more severe anxiety. The patient enters a deeper state of relaxation, and the effects will take time to wear off so arranging for friends or family members to bring you home is necessary. Finally, for the deepest possible calming solution, especially for those undergoing oral surgery, we have IV sedation. Administered through an IV by a trained anesthesiologist, you will enter a very deep state of relaxation and will be monitored throughout your dental procedure. The effects will of course take time to wear off.
Do You Have Dental Anxiety?
Don't let your fears stand between you and a healthy, whole smile. We're ready to help with a number of different calming solutions, and a gentle approach to dental care. To learn more, schedule a consultation with Smith Family Dentistry in Greenville, TX call us at 903-455-5750. We proudly serve patients from Hunt County, Greenville, Royce City, Sulphur Springs, and all surrounding communities.