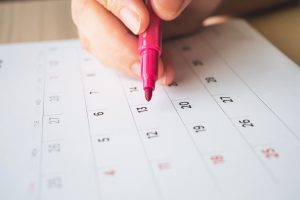 Halloween has come and gone, which means November is finally here. The end of the year is right around the corner and with all the hustle and bustle of the holiday season, this means the opportunity to schedule your last checkup of the year is fading fast. Schedule an appointment with your Greenville, TX, dentist today, and use your 2019 benefits before they expire!
Use Your Benefits
For many people, dental insurance benefits will expire at the end of December. Meaning if you don't use what you've paid for, they will simply vanish! When you schedule an exam, we can take a detailed look at your smile and identify any possible problem areas. We will create a personalized treatment plan to begin addressing these concerns before the year ends and to continue treatment once your new benefits become available in 2020. Talk to our team today, we can help you navigate the confusing world of dental insurance benefits!
The Exam Process
During your checkup, we will offer more than just a simple visual exam of your smile. We will employ digital x-rays, which use 80% less radiation and don't require lengthy development in harsh chemicals. In fact, we can see the images instantly chairside, walking you through the diagnosis and peering beneath the gum line to look at your jaw joints, tooth roots, and oral structures in great detail. Intraoral cameras allow our team to create detailed digital pictures of your teeth and gums, spotting possible problems in the earliest stages. For advanced cavity detection, we may employ the unique DIAGNOdent system, which identifies tooth decay before you experience tooth sensitivity or toothaches. Our team will look for signs of cavities, gingivitis, gum disease, infection, TMJ disorder, and bruxism (teeth grinding). For adults, we can also perform an oral cancer screening!
Keeping Your Smile Clean
The visit is about more than just the exam. We will also clean your teeth thoroughly, which means using an ultrasonic scaling device and manual tool to remove all plaque and tartar from your teeth. Removing this layer of bacterial buildup helps prevent the onset of tooth decay and gum disease, while also offering fresher breath and brighter teeth. If you have any questions about our approach to preventive dental care, or if you're ready to schedule an exam for you and your family, then please contact our team today.
Schedule a Checkup Today!
With preventive dentistry, we can help you maintain a healthy smile and avoid serious oral health concerns. To learn more about our general and preventive care, schedule a consultation by calling Smith Family Dentistry in Greenville, TX, today at 903-455-5750. We proudly serve patients from Hunt County, Greenville, Royce City, Sulphur Springs, and all surrounding communities.