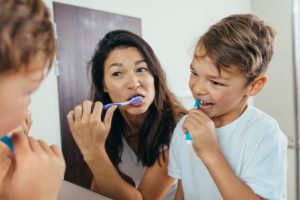 Since we're currently limiting our treatments to emergency care, you won't be able to attend a routine cleaning and exam for the time being. However, that doesn't mean your oral health has to suffer. In today's blog, your Greenville, TX, dentist is talking about how you can safeguard your smile from home, and when to see us for potential dental emergencies.
The Causes of Tooth Decay or Infected Teeth
How does a cavity form, or a tooth become infected? The outer layer of enamel protects the sensitive inner structures from bacteria. However, if a tooth is cracked or chipped, or plaque buildup due to poor oral hygiene coats the teeth and weakens the enamel, then bacteria reaches the inner layers of dentin and causes a cavity. An infection then develops once the bacteria is able to reach the inner pulp, the tooth's nerve center. People then begin to experience tooth sensitivity and toothaches, which grow worse with time as the decay or infection increases in severity.
Brushing, Flossing, and Better Snack Habits
To prevent cavities and infection, start by taking proper care of your smile. Daily brushing and flossing help limit the severity of plaque, safeguarding your teeth until we can see you again for a checkup and cleaning. You should brush for two minutes when you wake up and again before bed, using a toothpaste that contains fluoride. We also urge people to floss every night before bed, which removes the bits of food stuck between a tooth that a toothbrush alone cannot reach.
Try to avoid sugary foods and drinks too, as the bits of sugar feed harmful bacteria and lead to plaque buildup. Instead of candies, sodas, chips, or other sugary and starchy items, pick up whole grain crackers, fresh fruits and veggies, cheeses, nuts, yogurts, and maybe even sugar-free gum.
When to See Our Team
If you injure a tooth, let us know right away. If you begin to experience pain that could be caused by cavities or infection, again let us know. When you come to the office, we will schedule your visit to ensure you don't share the waiting room with other people. We also thoroughly clean and disinfect surfaces throughout the office and waiting room to help protect the health and safety of our team members and our patients.
Do You Have Questions About Keeping Your Smile Healthy?
We want to make sure you're still taking good care of your smile until we can see you again for a checkup and a cleaning. To learn more about how you can protect your teeth and gums, schedule a consultation by calling Smith Family Dentistry in Greenville, TX, today at 903-455-5750. We proudly serve patients from Hunt County, Greenville, Royce City, Sulphur Springs, and all surrounding communities.