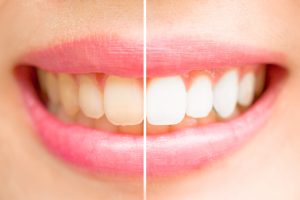 Do you feel embarrassed due to the discoloration in your smile? If so, then you may benefit from our cosmetic treatments! We're finally open for elective treatments, which means we can help remove your stains with professional teeth whitening. In today's blog, your Greenville, TX, dentist talks about the benefits of the Opalescence® system!
What Causes Teeth Stains?
Why do our teeth become stained over time? Well, if we consume beverages with dark pigments and tannins, like tea, red wine, soda, and tea, this could lead to discoloration, as could foods and drinks high in sugar, as the sugary particles feed harmful bacteria and lead to plaque buildup, which not only stains the teeth, but increases the risk of tooth decay and gum disease! Smoking cigarettes and using other tobacco products could also cause discoloration as well. Finally, lack of proper hygiene, such as poor brushing and flossing, could allow plaque to buildup and make discoloration more visible.
The Opalescence® System
With this option, we can remove teeth stains in-office in as little as one to two hours. We start by applying a protective covering over your lips and gums. Next, we apply the peroxide bleaching gel to the teeth. We activate this gel with a special light, which then targets and removes the discoloration. We repeat the process to brighten the teeth, often by several shades. The treatment is designed to help prevent tooth sensitivity, which often occurs when we use over-the-counter treatment options. If you have permanent teeth stains, the kind that form beneath the enamel and may be difficult for whitening to remove, we may instead mask them with dental bonding, porcelain veneers, or a combination of these two options.
Keeping Your New Results Strong
How do you keep your smile bright following treatment? First, make sure your brush your teeth twice a day, once in the morning and again at night. Each session should last about two mines, and we suggest a toothpaste that contain fluoride, which strengthens outer enamel. Be wary of whitening toothpastes, as they contain abrasive agents that night weaken enamel. Each night, be sure to floss thoroughly. Cut back on beverages with dark pigments, avoid tobacco products, and eat a healthier diet. These actions not only improve your smile's beauty, but your overall oral health as well!
Do You Have Questions About Cosmetic Dentistry?
We want to help you enjoy a brighter smile in one visit with our professional cosmetic treatments. To learn more our cosmetic treatment options, like teeth whitening and porcelain veneers, schedule a consultation by calling Smith Family Dentistry in Greenville, TX, today at 903-455-5750. We proudly serve patients from Hunt County, Greenville, Royce City, Sulphur Springs, and all surrounding communities.