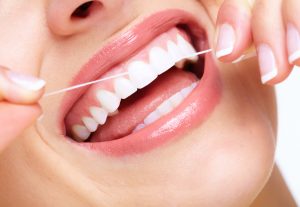 While we recently discussed how regular homecare is essential for keeping cavities at bay, routine care could also help prevent serious oral health issues like gingivitis and gum disease as well. In today's blog, your Greenville, TX, dentist is talking about what you can do to safeguard your smile and prevent the complications of poor gum health from home.
What Causes Poor Periodontal Health?
When lack of proper oral hygiene, combined with a diet high in sugary and starchy items, creates plaque buildup, this sticky bacterial layer could irritate and inflame the gum tissues. Over time, the inflammation, also known as gingivitis, could cause the tissues to pull away from your teeth and form deep pockets. Bacteria entering these pockets then leads to the onset of periodontal disease. Along with poor oral hygiene and sugary snack and drinks, other factors could include using tobacco products, inflammatory illnesses, the use of certain medications, and a family history of poor periodontal health.
The Danger of Bleeding Gums and More
When you notice your gums feel sore, look red, or bleed easily, this could mean inflammation or possibly the early stages of periodontal disease. While gingivitis can be reversed, there is no cure for periodontal disease, so you will instead need routine care to manage the issue and prevent periodontitis, the advanced stage that causes adult tooth loss. If you begin to experience these issues, give us a call so we can discuss ways to help improve your oral health from home, until we can see you again for preventive treatments like deep cleanings (scaling and root planings) or regular cleanings every three to four months.
Better Homecare Routines
To help safeguard your smile, be sure you're brushing your teeth when you wake up and again before bed, for about two minutes each session. Even more important, you need to floss before bed, moving the tape or floss pick up and down each side of every tooth and moving below the gum line. These actions remove trapped food particles, preventing bacteria from breaking them down and creating plaque buildup. We also recommend avoiding tobacco products and eating a diet with less sugar and starch. These actions also help fight bad breath, prevent cavities, and could even keep your smile brighter for longer. If you have any questions about maintaining a better homecare routine, then contact our team today.
Do You Have Questions About Periodontal Health?
We can't wait until our doors open again and we can see you for treatment, helping you avoid oral health problems and enjoy a more attractive smile. To learn more about keeping your smile strong and healthy, schedule a consultation by calling Smith Family Dentistry in Greenville, TX, today at 903-455-5750. We proudly serve patients from Hunt County, Greenville, Royce City, Sulphur Springs, and all surrounding communities.