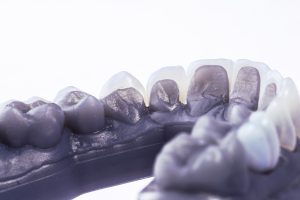 We want to help our patients in Greenville, TX, enjoy their best possible smiles, which is why we offer an array of cosmetic treatment options. In today's blog, we're looking at how one treatment option in particular can help people obtain a complete smile makeover. When should you contact our team about receiving porcelain veneers?
Designing Your Veneers with Digital Imaging Technology
First, we need to design and craft them. Each one is created specifically for our patients, there is no one-size-fits-all approach. We begin by removing a thin layer of outer enamel from the teeth receiving them. Next, we take a series of pictures with digital imaging technology. We use the images to design and craft them, ensuring a proper fit. The porcelain we create them from is translucent like tooth enamel, and can also be shaded to blend with the rest of your teeth.
Placing Your New Restorations
Once your restorations are complete, you will return for a second visit. During this visit, we will check the fit and make any necessary adjustments. Next, we place them with a powerful bonding agent, the same used to secure crowns and other restorations. A veneer can help mask permanent teeth stains, the kind that form beneath the enamel and may not otherwise respond to teeth whitening. We also help lengthen worn-down teeth, repair minor cracks or chips, and reshape malformed teeth. Veneers close gaps between the teeth too, and address issues with the surface texture too! In as little as one to two visits, you can obtain a completely transformed smile.
Maintaining Your New Smile
Routine care is crucial for protecting your veneers from staining. In addition, you must remember that the teeth we've attached them to are still susceptible to the onset of tooth decay and gum disease, two factors that could impact the stability of your smile. Which means routine care both at home and in our office is crucial for keeping your newly restored teeth strong and bright. You should brush your teeth twice a day for two minutes each session, and also floss every night before going to bed. Be sure to see us every six months for a checkup and cleaning as well, so we can remove plaque and safeguard your smile. If you have any questions about our approach to cosmetic treatment, then contact our team today.
Do You Have Questions About Obtaining a More Attractive Smile?
We want to help people enjoy stunning, vibrant smiles with custom-made porcelain restorations. To learn more about how we address common esthetic issues, then schedule a consultation by calling Smith Family Dentistry in Greenville, TX, today at 903-455-5750. We proudly serve patients from Hunt County, Greenville, Royce City, Sulphur Springs, and all surrounding communities.