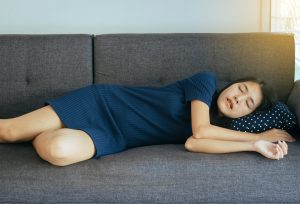 If you continue to wake up with jaw pain and sensitivity, it is time to start worrying about bruxism. People who have ongoing issues with bruxism will grind or clench their jaw during rest, which leads to progressive wear and tear on the teeth as well as stress on your jaw. Over time, this can produce more than just discomfort – you can begin to notice a change in the shapes of teeth, and you may even experience chips or cracks in your enamel. Our Greenville, TX dentist's office is prepared to help you if you think you are struggling with bruxism. With a custom appliance, it is possible to stop your jaw from clenching during the night. If you already have concerns about how your teeth have been damaged, we can discuss the benefits of restorative dental work to resolve the matter.
Pressure From Grinding And Clenching Can Wear Down Your Enamel
You have the capacity to apply tremendous force when you bite and chew. While this makes it easier to eat tougher foods, it means that bruxism can do potentially serious harm to your teeth. At first, you can feel tenderness or pain in your teeth, jaw, and face when you wake up after a night of teeth grinding. In time, your teeth can show signs of advanced wear and tear, and may even become damaged! Even if you avoid chips and cracks, enamel wear and tear can weaken teeth and make you less confident in the way you look.
Dealing With A Chipped Or Cracked Tooth
A chipped or cracked tooth is not something you want to ignore. A damaged tooth can be hurt further when pressure is applied, leaving you with an even greater need for restorative treatment. Harm to your enamel can also lead to an increased risk for a tooth infection to form. During an evaluation, your dentist can check on the condition of an injured tooth. With a dental crown, lasting protection can be provided without changing your appearance. Because we offer same-day crowns, this work can take less time with us than it would with another practice!
What Can I Do To Restore The Appearance Of Misshapen Teeth?
If teeth are misshapen but still healthy, it may be possible to restore them through cosmetic dental work. While cosmetic treatment will not offer improved bite support, it can make teeth appear younger, brighter, and healthier overall. Before committing to a procedure, your dentist can closely evaluate teeth to make sure crowns are not needed instead.
Talk To Your Greenville, TX Dentist About Issues With Nightly Teeth Grinding
At our Greenville, TX dentist's office, patients who have concerns about nightly teeth grinding can receive protection for their smile as well as treatment for any damage that has already occurred. To find out more, please contact your Greenville, TX, dentist, Dr. Smith, by calling 903-455-5750.