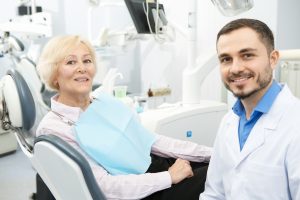 If you have suffered tooth loss, you can have more than a little interest in learning how your full smile can be regained. As you look into your options for restoring your smile, you can start to learn of the benefits that dental implants provide patients. With the support of implants, restorations can remain in place even as you rely on them to bite and chew through the years. Our Greenville, TX dentist's office is prepared to speak with you about implants, and we can help you understand what their role might be in restoring your smile. We can discuss treatment for you if you want to replace one absent tooth, or if you need to deal with multiple losses.
Why Patients Have Dental Implants Placed To Support Restorations
What makes a dental implant so beneficial to patients who want to restore their incomplete smile? The implant itself is not your restoration. What the implant does is provide a means of securing your restoration in place, connecting it to your jaw in the way that roots keep teeth connected. Implant support offers enough durability and dependability to effectively give you back your comfortable bite function. These posts also offer support for your jaw health by stimulating and supporting the bone.
Can I Use Dental Implants To Support A Larger Prosthetic?
With the right number of posts, it is possible to hold dental bridges and even dentures with implants. Through this approach, we can provide you with a larger restoration that helps you enjoy your full smile, while also ensuring that jawbone deterioration does not occur in time. If you have relied on removable dentures but wish for more functional support, the move to implant-held dentures can lead to exciting changes.
Long-Term Advantages To Having Implant Support For A Restoration
If you lose just one tooth, you can have more difficulties biting and chewing, not to mention the impact this can have on your smile. Implant-held appliances can absorb bite pressure, which means that you can avoid changes in your bite function that cause jaw strain, and eventually issues with TMJ disorder and teeth grinding. In the long run, implants will help you by preventing jawbone deterioration. That deterioration occurs after tooth loss because your roots are no longer creating the stimulation that tells your body to send nutrients to the bone. Implant stimulation revives that stimulation, effectively stopping jawbone resorption from affecting your oral health and appearance.
Talk To Your Greenville, TX Dentist's Office About Dental Implants
If you are ready to do something about your incomplete smile, or if you are starting to worry about the impact tooth loss might have on your life, Smith Family Dentistry can help! To find out more, contact your Greenville, TX, dentist, Dr. Smith, by calling 903-455-5750.