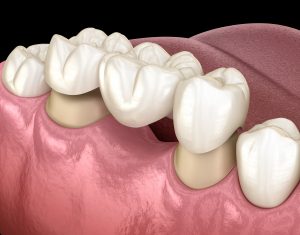 When you lose a tooth, or up to three in a row, then your Greenville, TX, dentist may suggest a bridge. We use this custom prosthetic to replace missing teeth with a functional and lifelike option. But how does a bridge treat tooth loss, and how do we design and craft them? How long do they last?
The Dangers of Missing Teeth
How does losing a tooth impact your smile? Obviously, there is embarrassment due to the gap in your smile. However, this gap could cause surrounding teeth to begin drifting from position, leading to misalignment. Missing one or more teeth could also place pressure on your jaw joints, leading to an increase in the risk of TMJ disorder or bruxism, jaw joint disorders that cause headaches, jaw pain, and could even lead to damaged teeth. If you lose more than one, they you could experience difficulty speaking clearly or eating your favorite foods!
Designing Your Prosthetic
First, we need to remove a little structure from the teeth on either side of the gap in your smile. We refer to these natural teeth as abutment teeth. Next, we take detailed impressions and measurements of the prepared teeth and use them to design the prosthetic. We then craft the bridge! The prosthetic consists of your new teeth, known as pontics, with crowns attached to each end. We create the crowns and pontics from ceramic, a strong material that absorb daily bite forces. The material is also translucent like tooth enamel, stain-resistant, and able to be tinted to blend with the rest of your smile.
Placing Your New Smile
When your new prosthetic is ready, you will return for a second visit. We place the crowns onto the abutment teeth in either side of the gap. The crowns then secure the pontics, for a sturdy replacement option that lasts about 10 to 15 years on average. To keep them strong, you should brush and floss around your new teeth, and also clean the space between the top of the gums and the bottom of the bridge, where food particles could accumulate. We can also discuss proper oral hygiene at home and in our office to protect the rest of your smile from tooth loss. If you have any questions about the causes of missing teeth, or if you think you may benefit from a custom-made tooth replacement option, then contact our team today. We want to help people in our community continue to enjoy a full and beautiful smile!
Your Greenville, TX Dentist Provides Prosthetic Dentistry
At Smith Family Dentistry, we take steps to help replace minor tooth loss with a lifelike dental bridge. To learn more about the benefits of prosthetic dentistry, then contact your Greenville, TX, dentist, Dr. Smith, by calling 903-455-5750.