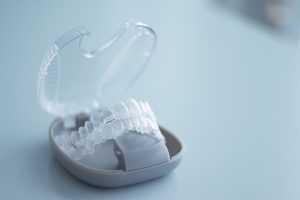 Just because you have crooked and crowded teeth, or teeth that overlap, doesn't mean that metal braces are the only possible solution. In fact, your Greenville, TX, dentist may be able to reposition your uneven teeth without the need for metal brackets or wires. In today's blog, we're looking at clear Invisalign® aligners!
The Impact of Uneven Teeth
Did you know that misalignment isn't just a cosmetic issue? In fact, uneven teeth could have a negative impact on your overall oral health too. For many, dental misalignment provides places for food particles to become trapped, places that even brushing and flossing fail to reach. This leaves trapped bits of food for bacteria to consume, a process linked to plaque buildup and higher risks of tooth decay and gum disease, as well as bad breath and teeth stains. Poor alignment also impacts bite balance, and the strain on your jaw joints could increase the risk of issues like TMJ disorder and even chronic teeth grinding, also known as bruxism.
Crafting Invisalign® Aligners
To start, we will examine your smile and assess the cause and extent of your misalignment. We want to make sure this is the best treatment option for your smile. If so, then we move on the next step, taking detailed images and measurements of your smile, which will be used to design and craft the aligners. Each aligner set is made from a BPA-free plastic material that is completely clear, offering barely noticeable orthodontics. You then begin the treatment process once we finish your new orthodontics.
Wearing Your Clear Orthodontics
Each day, you will wear a set for about 20 to 22 hours. After about two weeks, you will move on to the next set in the series. There will be periodic visits so we can monitor your progress. For most adults, optimal results are possible in about a year. Teen patients and those with more serious cases of misalignment may need up to 18 months to see optimal results. Along with their near-invisible appearance, they also fit comfortably and can be removed before meals, or prior to brushing and flossing your teeth. They offer a convenient method of correcting misalignment, and do little to impact your daily-to-day life. If you have any questions about how we treat misalignment, or if you would like to see if Invisalign® is right for you, then contact our team today. We want to help you obtain your best possible smile.
Your Greenville, TX Dentist Provides Straighter Smiles
At Smith Family Dentistry, we're ready to help preserve the health and beauty of your smile with clear and comfortable aligners. To learn more about our cosmetic orthodontics, then contact your Greenville, TX, dentist, Dr. Smith, by calling 903-455-5750.