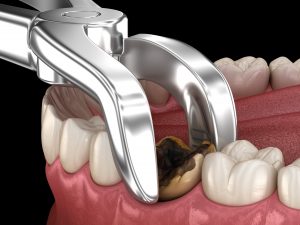 Fillings and crowns help us treat serious issues with a tooth, from damage to decay and infection. However, sometimes issues arise that are simply too severe to be addressed with a filling or crown. Instead, to preserve the smile we need to remove a tooth completely. In today's blog, your Greenville, TX, dentist explains when we recommend removing a tooth.
When We Prescribe a Tooth Extraction
We may suggest one when a tooth suffers breakage too severe to be repaired, or if a tooth is loosened due to advanced gum disease. If an infection is too serious to be treated with a root canal and could spread to other teeth, then we may take the tooth out to protect the smile. We could also take them out if you have serious misalignment, and we need to make room to reposition the teeth. But the most common reason we prescribe an extraction is to prevent complications due to wisdom teeth. In our late teens and early 20s, up to four new teeth could erupt, leading to misalignment, painful impaction, infection, and damaged teeth. But an extraction prevents these complications from occurring!
Ensuring Your Comfort
We always take measures to ensure you feel calm and relaxed. We will answer any questions you have, and will administer a local anesthetic to the area around the tooth in question. With dental sedation, we can also help you enter a calm and relaxed state with little to no memory of the procedure. Don't let your anxiety stand between you and a necessary oral surgical procedure. We will take steps to help you feel comfortable! We also take steps to ensure you enjoy a short and complication-free healing period, and will monitor your progress in a follow-up visit.
Dental Implants
After we take out your teeth, we will preserve the extraction site should a tooth need replacement. While wisdom teeth don't need to be replaced, losing a tooth to injury, gum disease, or infection leaves a gap in the smile that could cause more complications. With dental implants, we insert a titanium post that bonds with the jawbone like a natural tooth. We then attach a crown to address the visible portion of a new tooth. With several dental implants, we can even secure a bridge or denture that never slips, and lasts for decades to come. If you have any questions about removing teeth or replacing them, then contact our team today.
Your Greenville, TX Dentist Provides Restorative Care
At Smith Family Dentistry, our team is ready to help you enjoy a straighter, healthier smile. To learn more about the tooth extraction process, or any of our other restorative dental treatments, then contact your Greenville, TX, dentist, Dr. Smith, by calling 903-455-5750.