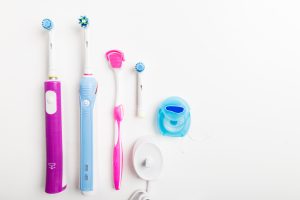 Each day, we need to care for our teeth from home. These daily brushing and flossing habits help control harmful oral bacteria and plaque buildup, and also lower the risk of major oral health issues. In today's blog, your Greenville, TX, dentist will discuss how to better care for your smile from home.
The Dangers of Poor Oral Hygiene Habits
When we don't care for our smile properly each and every day, this could leave particles behind from the foods and drinks we consume. Harmful oral bacteria will then break down and consume these particles, a process that releases a foul odor, elevates oral acidity, and coats the teeth in plaque buildup. Plaque cannot be removed with brushing and flossing alone, and could eventually weaken and erode outer enamel to cause tooth decay. The gum tissues could also become inflamed and irritated, leading to gingivitis and even gum disease. To control the buildup in between cleaning visits and help your teeth and gums healthy, you need to care for your smile daily.
Brushing Your Teeth
People of all ages need to brush in the morning and once more before going to bed. Each session should take about two minutes, and make use of a fluoride toothpaste. Fluoride helps strengthen your outer tooth enamel. Be sure your toothbrush contains soft bristles, as these can adequately clean without damaging the enamel.
Flossing Nightly
You also need to floss every evening as well. When we floss, we take an 18inch to 20inch length of tape and wrap each end around our thumbs. We then hold it taut with our index fingers, and run the tape up and down each side of every tooth, dipping below the gum line each time. You should also adjust your grip to ensure you only use a clean portion for each tooth. You can also use a floss pick or water flosser if that helps as well.
Cleanings
You should also contact our team every six months for a cleaning visit. This is the only way to completely remove all plaque and tartar buildup from the surfaces of your smile, keeping your smile strong and healthy. If you have high risk factors for gum disease, we may suggest one every three to four months. These visits benefit kids and adults alike. If you have any questions, the please give our team a call!
Your Greenville, TX Dentist Provides Tips for Better Care
At Smith Family Dentistry, our team wants to make sure you're taking steps to better protect your teeth and gums from home. To learn more about how our team helps remove tray food particles and protects your overall oral health, then contact your Greenville, TX, dentist, Dr. Smith, by calling 903-455-5750.