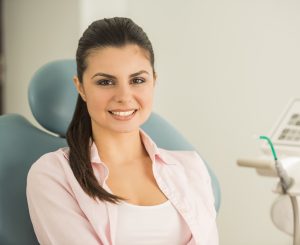 While you may be less than enthused to learn that you need restorative dental work, your procedure will stop a problem that will grow worse and create complications for your overall well-being. What you can be especially relieved to learn is that your treatment can take less time when you visit our Greenville, TX dentist's office. We rely on CEREC technology to provide custom dental crowns that are ready in just one appointment! Your treatment will provide important protection for a tooth that is infected or injured, and it will provide coverage that preserves the appearance of your smile!
CEREC Technology Helps Us Shorten Patient Treatment Times
Restorative dental work addresses harm to your tooth structure that puts your smile and oral health in jeopardy. Cavities will keep growing after they form, and injuries can create permanent problems for your bite while they also make you vulnerable to infection. When a problem is too serious for a dental filling, we can provide a custom dental crown that provides lasting support. Our use of CEREC technology will help you finish treatment in as little as one appointment, making this a convenient solution!
When You Need A Custom Dental Crown
The process of fully restoring your tooth first requires a careful measurement, which helps us determine how we can place a restoration that fits securely. Our CEREC technology includes digital technology we can use to scan the tooth. From there, we can create a digital design of the restoration that you will need to provide lasting protection. An in-office milling machine then produces a restoration made from a ceramic material that is lifelike and strong enough to absorb bite pressure.
Remember That We Also Help You Prevent Problems That Require Restorative Services
Our office is here to help you keep your smile in good condition through the years, which means you will be less likely to require restorative dental work at a later date. Regular teeth cleanings will reduce your risk for developing tooth decay, as we fight the accumulated plaque and tartar that will put your smile at risk. During a review, we will look out for problems that require treatment. Catching these issues in time ensures we can treat them with dental fillings, which only cover a limited space and preserve more of your enamel.
Talk To Your Greenville, TX Dentist About Receiving A Same-Day Crown!
Through the creation and placement of same-day dental crowns, we help our patients recover from problems like advanced tooth decay and dental trauma in as little as one appointment! Through this work, we can help you regain confidence in your bite function and in your smile. To find out more, contact your Greenville, TX, dentist, Dr. Smith, at 903-455-5750.