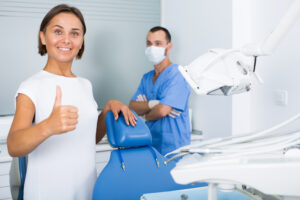 Your goal with your smile care routine should be to keep your teeth safe from any issues with dental decay. After all, once a cavity forms, you will have to do something about the permanent damage to your enamel. At our Greenville, TX dentist's office, we can provide regular reviews of your smile as well as detailed dental cleanings to lower your risk for this problem. During examinations, we can look out for smaller cavities that have not yet caused you discomfort. While they still need to be treated with a permanent restoration, we can make the treatment more conservative by using a lifelike filling that only covers the space where damage occurred.
A Tooth-Colored Filling Provides Cosmetic And Oral Health Support
Tooth-colored dental fillings provide support for your enamel after a cavity is removed. Their appearance is an impressive match for your healthy enamel, which makes it easier for you to avoid cosmetic issues after treatment. The material we use is a composite resin substance that offers esthetic as well as functional advantages. In addition to being hard to detect once applied, this material will be able to bond to your tooth structure to provide lasting security.
How A Filling Remains In Place
Dental fillings that are made with lifelike resin can actually bond to your tooth structure. By adhering in this way, they can keep the area of damage sealed, protecting it against bacteria infiltration. This support also helps because it makes counting on the restoration to stay in place easier. The material is applied as a liquid, at which point it will cover the area where your cavity formed before it hardens. At this point, you can rely on it to keep your tooth safe and give you the support you need to stay confident in your bite function.
Why You Might Need A Crown Instead Of A Filling
To put it simply, your cavity might be too big for a dental filling. If this is the case, then we can instead take care of you by providing a custom dental crown. A crown fully covers a tooth above your gum line. By providing this coverage, we can make sure that you have protection for the long term, and we can help you avoid potential complications.
Talk To Your Greenville, TX Dentist About Cavity Treatment With A Durable And Lifelike Dental Filling
Hopefully, you will be able to enjoy lasting protection from your oral hygiene routine and dental exams, which means you will not need to have restorative dental work performed. If you do run into a problem with your smile, our practice is ready to help! We can provide a custom dental filling that both matches and bonds to your enamel to provide lasting stability and support! To find out more, contact your Greenville, TX, dentist, Dr. Smith, at 903-455-5750.