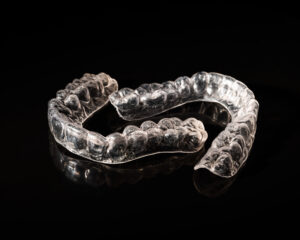 Is your smile something you are excited to show off when you enter a room or take a picture? While many people are fortunate enough to feel great about the appearance of their teeth, there are many others who have real doubts about the way they look. One reason for this can be because of the way their teeth are spaced. Any deviations in a uniform smile can stand out, particularly when they leave you with conspicuous gaps and overlaps. At our Greenville, TX dentist's office, we can offer a discreet solution for this problem in the form of Invisalign clear aligners! With this approach to care, we can entrust the movement of awkwardly spaced teeth to removable, hard to see appliances that are easy to fit into your life.
Poor Teeth Spacing Can Be A Common Source Of Unhappiness
There are different reasons why people can lack confidence in the way they look. Problems with poorly spaced teeth can certainly be a cause for unhappiness, as alignment issues can create awkward gaps and overlaps. They also make trouble for your overall facial symmetry, which can lead to you feeling your smile has an awkward look to it. The good news is that this is not always a problem that has to be treated with metal braces. For many, it can be addressed through the use of custom-made Invisalign aligners!
Planning Treatment With Invisalign Aligners
By planning your personalized procedure with Invisalign aligners, we can help you see to it that you no longer have to feel embarrassed by poor teeth spacing. The corrections that these appliances make will help with gaps and overlaps, and they will also provide results by making your appearance more symmetrical. You are free to remove your aligners whenever you feel that they are in your way, so they will not alter how you approach smile care or eating. When you do have them in place, their clear design makes it difficult for others to see them.
Review Your Different Options For Cosmetic Work
Because there are different options for cosmetic work, you can find it easier than you expect to arrange the service that best fits your needs. A cosmetic treatment with porcelain veneers, for instance, can help when you have several improvements you want to make. These restorations hide blemishes and damages, and they can also resolve problems with uneven and misshapen teeth. Because all of these changes can be made at one time, this can be an effective treatment option for anyone who wants to take on several flaws at one time.
Talk To Your Greenville, TX Dentist About Invisalign Treatment!
Through Invisalign treatment, we can help you move past concerns about your smile that are linked to poor spacing and alignment. If you would like to find out more, contact your Greenville, TX, dentist, Dr. Smith, at 903-455-5750.