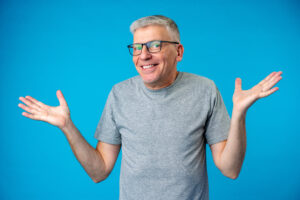 What tooth loss does to your smile and daily life can certainly be hard to ignore. Each day, your compromised bite function can be a source of irritation. Over time, it may even result in undesirable changes to what you include in your diet. The problems with your smile can also be a source of real embarrassment. At our Greenville, TX dentist's office, we can provide a solution that takes on the cosmetic and oral health effects of this problem. Implant dentistry relies on small titanium posts to hold restorations in place. These restorations, once secured, can give patients back confidence in how they look, and they can also provide key functional and oral health benefits!
Living With Tooth Loss Can Prove Difficult For Several Reasons
There is not just one reason why you should consider treatment for tooth loss. The impact on your smile can certainly be a source of concern. After all, it can be hard to feel at ease with the way you look when you have a gap that is noticeable between teeth. With that said, there are also functional problems that you can encounter in a typical day that cause you real frustration. These problems can make it harder for you to bite and chew certain foods, and in some cases they can even make speaking feel awkward. Unfortunately, the loss of one tooth can lead to the loss of more, as you will have less support for those that remain when they have a missing neighbor.
Using A Dental Implant To Hold Your Restoration
A dental implant holds a lifelike prosthetic restoration in position. The arrangement can actually imitate the kind of support that a natural tooth has thanks to its roots. The implant itself is set directly into your jawbone. Once you have healed from the placement process, you can see us to have your custom restoration placed. The security of this solution lets you bite and chew with less difficulty, and it can even help to stabilize neighboring teeth. Over time, the implant will offer an additional benefit by stimulating your jawbone and keeping it from deteriorating.
Enjoying Life With Your Fully Restored Smile!
You can certainly look forward to life with your fully restored smile. Implant dentistry helps patients fix problems with their appearances, dental function, and oral health. If you want to preserve the improvements that you enjoy, keep up with general dental exams and cleanings. This way, you can be warned about potential problems and avoid complications, and you can have an easier time maintaining your overall oral health.
Talk To Your Greenville, TX Dentist About Implant Dentistry!
Through implant dentistry, our practice can help you take on potentially serious issues with your appearance as well as your dental well-being. If you are ready to find out more, contact your Greenville, TX, dentist, Dr. Smith, at 903-455-5750.