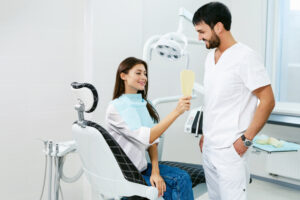 How much trouble are you in when a cavity forms? If the problem is not addressed in time, decay can have a significant effect on your smile and health. After all, the problem will not stop worsening until it is professionally treated. Eventually, bacteria can make their way into your tooth's central chamber, the pulp, and start attacking the living tissues within. From there, these harmful microbes can move through the roots of a tooth and create more difficulties for you.
Fortunately, when the problem is caught and treated early, your Greenville, TX dentist can minimize the harm to your enamel and fully restore your smile as well as your oral health. Timely treatment can include the placement of a dental filling. At our office, we place fillings that imitate healthy enamel in order to provide bite support as well as the preservation of how you look.
Can I Really Count On A Tooth-Colored Filling To Provide Functional Support?
A composite resin substance that matches the appearance of your healthy enamel can be used to take care of your tooth when you have a cavity. The material hardens after it is applied, providing a degree of support that lets you bite and chew without worrying that you might do harm to the restoration or your enamel. In addition to providing discreet care, these fillings can be placed in just one appointment, making your care more convenient than you might anticipate.
Resolving Issues With Dental Decay
A cavity can be identified at a routine dental exam even before it is serious enough to affect your oral health. The benefit to catching and treating decay in its early stage is that you can preserve more of your healthy enamel and make your care easier. After the decay is carefully removed, your dentist will apply the dental filling to cover the affected area and protect it. Upon hardening, it will offer meaningful bite support as well as protection against a future infection or injury at the site where your treatment occurred.
What Else Can Be Done To Restore Your Oral Health When You Suffer A Cavity?
The more severe your cavity is, the more involved your treatment can become. Eventually, decay will do too much damage to make treatment with a filling possible. Instead, you can have a crown placed over the tooth. Dental crowns provide protection by surrounding vulnerable teeth; technology in our office actually allows us to produce and place crowns in just one appointment.
Talk To Your Greenville, TX Dentist About Receiving A Tooth-Colored Filling
To learn more about the advantages to cavity treatment with a tooth-colored dental filling, please reach out to your Greenville, TX, dentist, Dr. Smith, by calling us at 903-455-5750.