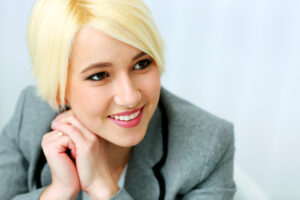 Teeth stains can be picked up from many of the popular foods and drinks that people enjoy. Even if you are trying to limit your exposure to them, it can be tough to fully prevent picking them up. Unfortunately, it can also be tough to remove them when you try to take on the problem by yourself. By bringing up your embarrassment over dental discoloration with your Greenville, TX dentist, you can find out how the issue can be effectively treated! We rely on an in-office system that activates the effects of the bleaching gel used to brighten teeth without the need for light. Because we can do this, we can produce positive results in a short time and prioritize your comfort!
Are You Embarrassed By Your Discolored Teeth?
Because dental discoloration is associated with poor oral hygiene and health, and because it can have the effect of aging you, it is a difficult problem for many to live with. When you try to take it on by yourself, you can find that removing the stains you have picked up through the years can also prove difficult. What you can do is bring the matter up with your dentist. Cosmetic work is able to produce results that are difficult to match by yourself. With just one appointment, we can help you show off a brighter and more attractive smile!
Planning Treatment To Fight Enamel Stains
We use the Opalescence® in-office whitening treatment to fight tough stains for our patients. By choosing this method, we provide an approach that offers timely care while also limiting worries about sensitivity during or after your visit. A chemical agent is used to safely activate their effects instead of a curing light. This can make your process more comfortable, and it can have you out of our office with brighter and more attractive enamel in just over an hour.
Care To Take On Discoloration Within Your Tooth Structure
By studying your smile, we can assess whether you have issues with enamel stains or need to do something about intrinsic discoloration. If the latter is a problem, we can discuss other forms of cosmetic dentistry that treat more than just external problems. By placing porcelain veneers or performing tooth bonding work, we can hide these internal blemishes and give you a brighter, more attractive smile.
Talk To Your Greenville, TX Dentist About Caring For Teeth Stains
The right approach to treating your teeth stains can require less time and effort than you anticipate. With a single appointment, our practice can help you show off a smile that is brighter and more attractive, one that you are eager to share with the world. If you would like to learn more about this service, or if there are any other cosmetic concerns that you hope to discuss with us, reach out to your Greenville, TX, dentist, Dr. Smith, at 903-455-5750.