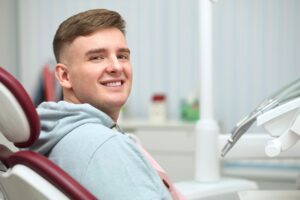 It can be less than exciting to learn that you need dental work, but when you are dealing with active pain, it can provide important relief. A problem with an advanced cavity or physical injury can make a root canal procedure necessary. During this service, your Greenville, TX dentist will carefully work within the tooth structure to address an infection and damaged tissues. After clearing this space and sealing it, we can make sure the tooth remains safe by capping it with a custom dental crown. Remember that these problems are less likely to occur when you have general dental exams booked, as your appointments will provide you with warnings before problems with advanced cavities can occur.
Why A Root Canal Could Be Necessary For Your Aching Tooth
The onset of a cavity should not be taken lightly, but you should know that the problem is one that takes time to worsen. At first, it can be treated with a dental filling that can match your enamel and minimize the overall changes to your tooth structure. When the cavity becomes more advanced, it will require more support than this, and it may also demand a root canal. Patients sometimes fear that this procedure will be uncomfortable. There are two things to keep in mind when this treatment is recommended. One is that it will actually put a stop to the active discomfort caused by decay. The other is that without this procedure, the problems will continue, and they can worsen to the point where tooth loss and other threats need to be addressed.
Providing Restorative Treatment For Advanced Cavities And Injuries
A severe cavity or tooth injury that creates problems within your pulp, the tooth's central chamber, can be addressed through root canal therapy. This procedure will address problems within this space so that you do not experience further difficulties. Beyond just removing the infected or damaged tissues, we can seal the pulp and make plans for the placement of a dental crown to protect you.
Taking Care Of Your Tooth After Providing A Root Canal
After providing root canal therapy, our practice can provide further protection in the form of a dental crown. The crown will surround your tooth and become responsible for absorbing bite pressure on its behalf. We can see to it that yours matches your tooth structure so that it does not alter how you look.
Talk To Your Greenville, TX Dentist About Booking A Root Canal
Through root canal therapy, we can stop a potentially serious oral health threat from worsening. For more information or to discuss this or any other kind of care that you might need, please reach out to your Greenville, TX, dentist, Dr. Smith, at 903-455-5750.