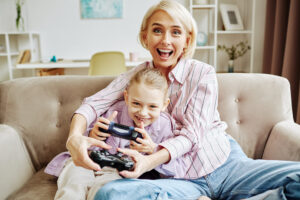 As a parent, it is your job to instill positive values in your little one, and this Mother's Day, show your child the importance of preventive dental care with a checkup in the office. While chocolate and flowers are nice, you understand that the lasting health of your child is the most important thing. Routine cleanings and examinations from your dentist can help them to grow into their smile, and remember that dental habits start at an early age!
Take the time to speak with our dental team in Greenville and McKinney, TX about all of the ways that you can keep your family on a positive path in smile maintenance. Even before their first tooth arrives, there are steps that you can take to give them the greatest chance of success, so talk with a trusted provider about how to care for your little one. We are here for every member of your family!
Be A Positive Role Model With Routine Checkups For Your Child
When you have a child, they look up to you. You are their main source of guidance, which gives you the opportunity to set the tone in the aspects of their development that may seem less fun. With dental appointments, you can help them to understand the need for visits to the office in a few ways. Every child is different, so play around and see what works best for you and your family!
Other parents have found success in lining up their schedule of cleanings and examinations with those of their child. This way, you can show them that this is an activity that everyone needs, and that the dentist is not something to fear. Talk to your provider about a combined visit for both you and your little one, and discover the advantages of this approach!
Help Your Child To Understand The Importance Of Brushing And Flossing
If your son or daughter is struggling with their routine oral health maintenance, we can also be a source of information. When they are ignoring their brushing and flossing, it can be helpful to reach out to a family dentist. We can be a trusted authority figure, as sometimes, they can tune you out.
Always remember that you have the power to keep the emphasis on positive smile development. Their habits start to form when they are still little!
Understanding Children's Dentistry In Greenville, TX
Your child depends on you for their health treatment, so be sure that you are giving them the greatest change of smile success. For more information or to schedule an appointment with Dr. Smith, DDS at Smith Family Dentistry, call (903)455-5750. We are here to help patients at any stage of their life!