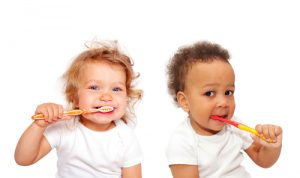 Just like teen and adults, children, even toddlers, are susceptible to cavities. Without treatment, these cavities can eventually threaten the stability of their smiles, even leading to premature tooth loss (which can lead to misalignment later in life). How do you protect little smiles from decay?
Try Our Quiz on Children's Dentistry
True or False: Kids should see the dentist every six months.
True or False: We can place dental sealants to prevent decay.
True or False: We can also offer fluoride treatments.
True or False: Kids should brush and floss from home.
Answer Key
True. Once that first baby tooth arrives, your child is ready for his/her first visit to the office. Afterward, six-month checkups will be needed to monitor your child's development, look for signs of developing issues, and perform dental cleanings, which help limit the risk of cavities.
True. A dental sealant is a plastic coating that we place over the teeth in the back of the mouth. Little ones have a hard time reaching these when brushing, which allows food to remain trapped between them and lead to the onset of tooth decay. However, the plastic sealant keeps food from becoming stuck, reducing the chances of a cavity forming. The sealants will eventually wear away naturally.
True. A fluoride treatment helps strengthen a tooth's natural defenses against cavities, helping to safeguard little smiles against tooth decay.
True. Each day, your kids need to brush their teeth twice a day and floss each night before bed. For older kids, you can monitor them and make sure they're brushing and flossing correctly. You can also help your toddlers care for their smiles. If you have any questions about dental care for children, please contact our office today.
Do Your Kids Need to See the Dentist?
We can help your little ones enjoy healthy, bright smiles with our approach to children's dentistry. To schedule a visit, call Smith Family Dentistry in Greenville, TX, today at 903-455-5750. We proudly serve patients from Hunt County, Greenville, Royce City, Sulphur Springs, and all surrounding communities.