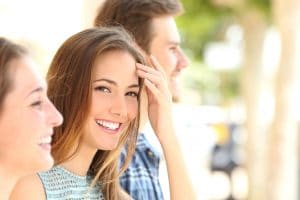 If you have teeth that are crooked or misaligned, it can present a number of challenges for your smile that go beyond appearance. Although an effect on your smile's appearance can be enough to shake your confidence. A crooked smile can be troublesome to keep clean and plaque-free, which can put you at a higher risk for tooth decay and gum disease. A misaligned smile can also lead to a development of jaw disorders. Many people believe that orthodontic treatment for a misaligned smile is only for teenagers. However, straightening your teeth can be beneficial at any age. Invisalign® treatment can discreetly restore your confidence in your smile while eliminating other challenges presented by crooked teeth. 
A Straight Smile Can Be Healthier
Just because your smile is not straight does not mean that it makes you feel insecure or self-conscious. However, a crooked smile can be problematic for your oral health. Overlapping, crowded teeth can more easily collect bacteria in the nooks and crannies created by the overlapping surfaces. This collection of bacteria can be harmful to your teeth and the gums. Crooked teeth are also at a higher risk of damage. Misaligned teeth can shift into each other at bad angles, which cause damage. Straightening your smile can make it easier to clean and help eliminate the risk of damage.
Benefits of Invisalign® Treatment
Invisalign® treatment involves the use of clear plastic aligners that apply gentle, persistent pressure to your teeth causing them to shift gradually over time into proper alignment. The aligners are designed specificially for your smile and its needs. During your treatment, you will wear your custom-made aligners for at least 20-22 hours per day. Unlike traditional metal-and-wire braces, you can remove the clear aligners at your discretion. Clear aligners are hardly noticeable in person and in photographs, which means you can get a straighter smile without being self-conscious of your appearance during treatment.
Do I Qualify For Invisalign® Treatment?
Straightening your smile can make it healthier. To schedule a consultation with Smith Family Dentistry in Greenville, TX call us at 903-455-5750. We proudly serve patients from Hunt County, Greenville, Royce City, Sulphur Springs, and all surrounding communities.