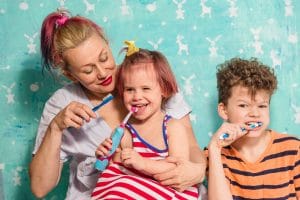 Springtime usually causes some inspiration to make everything fresh and clean. The sunshine might make you feel more inspired to scrub everything with a little bit of elbow grease to make it all sparkling clean. When you are creating your list of things to clean up around the house for some "Spring Cleaning," think about adding your family's smiles to the list. We have three helpful tips on how to use your zeal for spring cleaning for helping smiles. We hope these tips are helpful for you, your little one(s), and the whole family! 
Refresh the Family Hygiene Routine
Remember that toothbrushes should be changed out at least every three months to keep away bacterial buildup and to ensure the bristles stay in good condition. While you are checking out the toothbrushes themselves, why not check on the use of them? Children (and even adults) can often miss spots while brushing. Try a family hygiene session with your kid(s) where everyone brushes together, so that you can make sure their brushing and flossing technique is effective. Everybody should brush for at least two minutes twice a day while thoroughly brushing every surface.
Get Clean With Nutrition, Too
Eating clean means eating plenty of fresh vegetables and fruit. With plenty of them in season during spring, it is important to make sure they are making it to the plates and tummies. It is also important to make sure that everyone is drinking plenty of water. Water is not just hydrating for your body, but it is vital for your oral health, too!
When Was Your Last Dental Cleaning?
Are you or anyone in your family due for a cleaning and checkup? Be sure to schedule a visit with your dentist at least twice a year for cleanings and checkups to stay on top of potential issues. A professional cleaning allows for plaque buildup to be removed to keep smiles healthy.
Spring cleaning goes beyond the house
We can help with your family's smiles. To schedule a consultation with Smith Family Dentistry in Greenville, TX call us at 903-455-5750. We proudly serve patients from Hunt County, Greenville, Royce City, Sulphur Springs, and all surrounding communities.