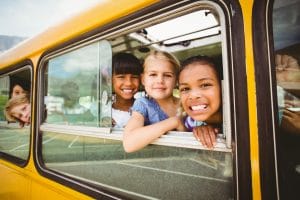 For most schools in Greenville, TX, summer vacation is coming to an end in just about two weeks. Back-to-school season is usually a time when kids get excited about new outfits and new school supplies. It can also be a great time to recommit to oral health. Whether your kids are heading into kindergarten or going off to college (or maybe you have multiple that are doing both), oral health is important. We have a few tips and reminders that might help keep your family's smiles healthy when going back to school. 
Reminder To Drink Water
Not all schools allow for water bottles, so it is important to check if your child's school allows it. If so, an empty water bottle that they can fill up in the water fountain can be a great way to keep them hydrated. If not, reminding them to get a drink of water when they can is important. Not only does drinking water keep the body hydrated, but it helps keep the mouth free of bacteria. Water induces saliva production, which is the body's natural rinsing agent.
Thoughtful Lunches
Speaking of water, why not pack it in the lunchbox? Rather than sugar-filled juice boxes or sodas, water can be a great lunch companion. Flavored water can be a great way to jazz things up (just be sure that it doesn't have added sugar). Eating fibrous celery or apples mimic brushing your teeth, so they can be great additions to a packed lunch.
Oral Hygiene
Transitioning from summer schedules to a busier school schedule can be a challenge. When the day's itinerary changes, don't forget to keep stars next to brushing and flossing. Professional cleanings are also an important part of an oral hygiene routine and they should be done at least twice a year. An exam and cleaning just before school can be a great way to start the school year off in good oral health.
Do you have kids that are going back to school?
The end of summer is a great time for the family to visit the dentist. To schedule a cleaning and exam with Smith Family Dentistry in Greenville, TX call us at 903-455-5750. We proudly serve patients from Hunt County, Greenville, Royce City, Sulphur Springs, and all surrounding communities.