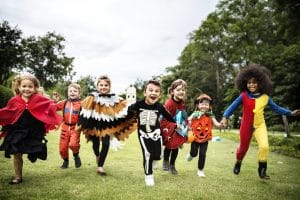 Halloween is filled with lots of fun things to think about: what costume to wear, what party to go to, what neighborhood to pick for trick-or-treating, and so on. While you may be considering the dangers of candy to a smile, you may not think about the potential harm of tripping and falling from your costume. Whether you are worried about your costume as an adult or the costumes your children are wearing, falling down is a common occurrence on Halloween. You are walking around in an outfit you probably are not used to and walking in areas you may not be too familiar with. It is important to be careful. If you do have an injury to your smile, be sure to contact Smith Family Dentistry in Greenville, TX. 
Make Sure You Can See 
Some masks do not have very good eye holes to see through. Make sure that you or your child can see through a mask, hood, or wig on Halloween. If the vision is obscured, be sure to take it off when walking around or to use a buddy to lower the risk of tripping and falling. Be mindful of walking around in the dark. It can take one lone branch over the sidewalk or a bump in the road to trip you up. Falling down can lead to a busted lip, a broken tooth, or worse. Using a flashlight or glow stick can help make sure you see the surprises before they surprise you.
Be Prepared In An Emergency
If an accident does happen, do not panic. If there is bleeding, rinse the mouth with warm water or salt water. Apply a cold compress to the injured area. If there is a severe break in the tooth or if the tooth has fallen out, it is important to call the dentist as soon as you can. In the event of a dental emergency, the faster you act, the faster (and better) the problem can be solved.
Costumes can sometimes cause tripping and falling
Tripping over a costume can lead to an oral injury. To schedule a consultation with Smith Family Dentistry in Greenville, TX call us at 903-455-5750. We proudly serve patients from Hunt County, Greenville, Royce City, Sulphur Springs, and all surrounding communities.