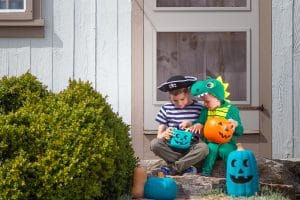 October in Greenville, Texas means that trick-or-treating is just around the corner. It also means that the grocery stores, drugstores, and department stores all feel like their aisles are overflowing with candy. It can be tempting to stock up on all the big bags of sweets so that your house can have the best treats on the street. Have you thought that maybe there is a way to give out fun treats without promoting tooth-decay-causing sugary snacks and candy? We have a few suggestions of fun, exciting treats that you can think about handing out this year instead of candy.
Bulk Toys
You can find toys like whistles, slinkies, kazoos, bouncy balls, stickers, or temporary tattoos at the dollar store or even online for very cheap. You can even get a variety of toys to let the kids pick what they want when they get to your door.
Glow Sticks
Glow sticks are also an affordable thing to buy in bulk. You can be the house handing out cool glow sticks that the kids will find fun and the parents will find safe.
Costumed Water Bottles
There are little 8-ounce water bottles that have a round shape perfect for decorating. If you have the time to get crafty, decorate the little water bottles to look like jack-o-lanterns, witches, ghosts, spiders, or whatever Halloween fun you want. Cute water bottles could be not only fun to look at, but a healthy option for kids. Drinking water can help keep them hydrated during all their walking around. Drinking water can also help to rinse away the leftovers of candy in their smiles.
Sugarless Gum
Chewing sugarless gum helps to promote saliva production in the smile, which helps to clear out harmful bacteria. There are also lots of fun flavors of sugarless gum that you can hand out.
What do you hand out on Halloween?
Handing out candy isn't the only way to being the cool house on the block. To schedule a consultation with Smith Family Dentistry in Greenville, TX call us at 903-455-5750. We proudly serve patients from Hunt County, Greenville, Royce City, Sulphur Springs, and all surrounding communities.