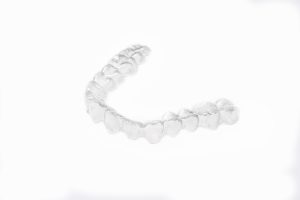 Did you know that crooked, crowded, and uneven teeth don't just impact your appearance? Without treatment, misalignment has been linked to a number of serious oral health problems. In order to offer our patients in Greenville, TX, a comfortable and barely noticeable solution, we may suggest Invisalign®. What benefits will these clear aligners offer?
How Does Correcting My Smile Impact Oral Health?
Did you know that even if you brush and floss nightly, uneven teeth may make it difficult to remove food caught between the teeth? Over time, this could lead to a greater risk of tooth decay and gum disease. People with uneven smiles also often experience a greater risk of TMJ disorder and bruxism, jaw joint disorders linked to jaw pain, headaches, and toothaches. By correcting your uneven smile, we help you enjoy optimal oral health, as well as a beautiful smile that you'll be eager to show the world!
Creating Your Custom Aligners
The aligners will be custom-made to ensure not only a proper fit, but a comfortable one as well. We take detailed digital impressions of your teeth, which will be used at an Invisalign® lab to craft a series of aligners from a BPA-free plastic material. When completed, you start treatment by wearing a set for two weeks, 20 to 22 hours each day. After around two weeks, you move on to the next set as your teeth will gradually and carefully shifted to optimal positions. The total treatment time will vary, age and severity of misalignment will impact this time, but patients often obtain more even smiles in about a year.
The Benefits of Invisalign® Aligners
Did you know the aligners will be clear, meaning they are practically invisible when worn? In addition, patients may remove the aligners before meals, which means no need to avoid certain foods. You also have the option of taking them out before you brush and floss, which makes caring for your smile easy. You can also remove them prior to special occasions, such as a graduation, as long as you maintain the 20 to 22 hours a day your dentist recommends. Patients also enjoy fewer office visits and a shorter treatment time when compared to traditional metal braces. If you have any questions about clear aligners or their benefits, then contact our team today.
Does Your Smile Need Clear Braces?
If you have an uneven smile, then talk to our team about clear and comfortable orthodontic aligners. To learn more about our cosmetic procedures, including Invisalign, schedule a consultation with Smith Family Dentistry in Greenville, TX call us at 903-455-5750. We proudly serve patients from Hunt County, Greenville, Royce City, Sulphur Springs, and all surrounding communities.