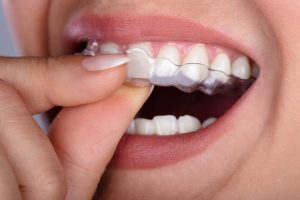 Do you suffer from chronic teeth grinding or jaw clenching? If so, you could not only drive your significant other crazy, but you could suffer from damaged teeth. In order to help patients in Greenville, TX, with bruxism, we may recommend a restoration or possibly even a custom-made oral appliance. Let's talk about how we stop teeth grinding!
The Causes of Bruxism
A number of different factors could lead to a patient grinding teeth or clenching his or her jaw. For example, high levels of stress in your dialy life, untreated TMJ disorder, tooth loss, misalignment, poor restoration placement, or other issues that could impact the balance of your smile. As part of your treatment, we will need to identify the cause of extent of your oral health issues, which include carefully examining the wear and friction on your teeth. With a custom-made solution, we will help you avoid further damage to your smile.
Warning Signs of Teeth Grinding
When should you see your dentist for treatment? Common warning signs of untreated teeth grinding often include jaw pain, headaches, and pain in your teeth. Teeth grinding may actually wear down tooth enamel, leading to an increased risk of tooth decay, as well as cracked or chipped teeth. People may then experience serious oral health complications, which threaten the health and stability of their smile. For patients who develop TMJ disorder as a result of bruxism, a popping or clicking in the jaw may occur. If your significant other reports that you grind your teeth regularly, or if you experience the noticeable symptoms we've discussed, then please talk to our team today. Don't let bruxism lead to infected or lost teeth, let us help you protect the overall health of your smile.
Oral Appliances
After performing a thorough diagnosis, we will decide which treatment will best correct the problem. We may suggest placing a custom-made crown or veneer, or addressing tooth loss with a bridge or dental implant. Treatment could also include correcting misalignment with orthodontics. However, the most common solution is typically a custom-made oral appliance. Worn at night as you sleep, the device actually repositions the jaw to ease strain on the joints, while also placing a barrier between the upper and lower sets of teeth, which prevents further damage to your smile. If you have any questions or concerns about your bruxism issues, then talk to our team about a diagnosis and possible treatment options.
Smith Family Dentistry Stops Bruxism
Our team wants to help you stay free of grinding/clenching and damaged smiles. With preventive care, we can treat your oral health issues and help you enjoy a healthier, more comfortable smile. To learn more about our approach to preventive dental care, call Smith Family Dentistry in Greenville, TX, today at 903-455-5750.