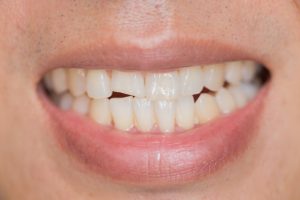 Problems with a tooth's shape can occur naturally, or as a result of injury or teeth grinding. Either way, these issues can impact the beauty of your smile. In order to correct problems with the shade and shape of your smile, we suggest bonding and contouring. With these cosmetic treatment options, we can transform smiles in Greenville, TX, in just one sitting. What should you expect from this unique treatment option?
Cosmetic Bonding
Bonding employs a lifelike material to repair teeth. Made from a special blend of quartz and acrylic particles, composite resin is also used in our tooth-colored fillings. We begin treatment by removing any decay and then thoroughly cleaning the tooth. Next, we may gently etch the tooth's surface before applying the material in several layers. Before applying the material, we shade it to match the surrounding tooth structure. As we cure the material under a special light, we shape and sculpt the tooth. The last step is polishing, which helps ensure a more lifelike appearance. The entire process takes one visit to complete. We've used bonding to fix chipped teeth, mask permanent teeth stains (the type of discoloration that may not respond to typical teeth whitening options), and close gaps between teeth.
Contouring Your Teeth
In the same visit, we may contour your teeth as well. Tooth contouring means we gently buff away a small layer of outer tooth enamel. In doing so, we can reshape chipped teeth, correct overly pointed teeth, and remove any pits or groves in the surface of the smile. The entire procedure takes only one visit to complete and helps improve the beauty of your smile.
Always Treat That Chipped Tooth
We often recommend bonding to repair teeth that become chipped. Remember, even if the damage to your tooth appears minor, we still suggest seeing our team for treatment. Chipped or fractured teeth could expose sensitive inner layers of tooth structure, increasing the risk of tooth decay and dental infection. However, treatment can help you avoid painful complications. In addition, we can talk about custom mouthguards and other options to help safeguard teeth from further injury during the summer months. If you have any questions about our cosmetic repair options, or if you're ready to schedule an appointment, then please contact our team today to learn more!
Do You Need Cosmetic Dental Care?
Our team understands how important a stunning smile can be, and work to offer patients beautiful results with cosmetic dentistry. To learn more about cosmetic dentistry and the other unique treatments we provide, schedule a consultation with Smith Family Dentistry in Greenville, TX call us at 903-455-5750. We proudly serve patients from Hunt County, Greenville, Royce City, Sulphur Springs, and all surrounding communities.