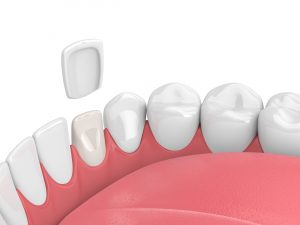 If you have multiple issues with the appearance of your smile, such as damaged or misshapen teeth and discoloration, you may assume multiple procedures will be necessary. However, to help transform smiles in just two visits, your Greenville, TX, dentist may recommend placing lifelike porcelain veneers. How do veneers address multiple cosmetic issues in just a couple of visits?
Porcelain Restorations
We create them from porcelain because the material has the ability to absorb bite forces and withstand serious pressures. In addition, the material is also stain-resistant and we can shade it to better blend with the surrounding teeth. Since porcelain is translucent, the material also mimics the translucent appearance of natural tooth enamel. Since they cover the front and sides of the teeth, they help completely change the appearance of the smile and allow you to obtain stunning results that you'll be eager to show the world.
Placement and Benefits
We start the process by removing a thin layer of tooth enamel from the tooth and taking detailed impressions. We use the impressions to design a custom-made restoration from porcelain. After we finish the restoration, you will return to the office so we can check the fit, make any necessary adjustments, and place the completed veneer with a powerful bonding agent. The restoration will look natural and address a wide array of esthetic concerns, lengthening worn down teeth, repairing chip and cracks, and closing gaps between teeth.  We also use them to mask permanent teeth stains, the kind that may not respond to traditional teeth whitening. Our team can also employ these restorations to correct the appearance of minor misalignment.
Keeping Your Smile Strong
Did you know that regular care and attention can help ensure your new veneers last for many years to come, decades in some cases. Routine care is crucial, as the teeth the veneers are attached to are still vulnerable to decay, infection, and gum disease. We suggest brushing your teeth twice a day and flossing every night before going to bed. You should also see us every six months so we can examine your smile and provide a cleaning, which removes plaque buildup and safeguards your smile. If you have any questions about our cosmetic treatment options, then please contact our team today. We can help transform your smile with a custom-made treatment option.
Ready for Cosmetic Dentistry?
If you would like to enjoy a brighter and more attractive smile, then you may want a porcelain restoration. For more information on cosmetic dental care and other esthetic treatment options, then schedule a consultation by calling Smith Family Dentistry in Greenville, TX, today at 903-455-5750. We proudly serve patients from Hunt County, Greenville, and all surrounding communities.