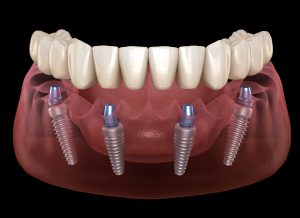 Often, dentures are removable, held in place with suction or metal clasps. While effective, they tend to need replacement as the shape of the jaw ridge changes over time. However, what if we could fix them in place with dental implants, and ensure they last much longer? In today's blog, we're looking at how your Greenville, TX, dentist secures dentures with dental implants.
Full and Partial Dentures
A full denture is meant to address every single one of your teeth on one or both of your arches, providing a new smile. The prosthetic consists of a base made from acrylic, which is designed to look like gum tissue. A full row of teeth will be created from ceramic or other materials that look natural and have the ability to absorb every day bite forces. Typically, natural suction holds a full in place.
A partial addresses multiple missing teeth for those that don't yet need a set of complete dentures. Again, there will be an acrylic base that looks like gum tissue, as well as replacement teeth. Metal clasps, which attach to remaining natural teeth, will anchor them in place. These can address gaps that are spread out across the smile.
Securing Them with Dental Implants
Removable dentures usually last between 10 and 15 years. You see, the body stops supplying the jawbone around missing teeth with doses of calcium and phosphorus, causing the bone tissue to break down and the shape of the jaw ridge to change. However, by placing dental implants, the body will resume the flow of nutrients as it accepts them as natural tooth roots. This preserves the jaw ridge shape and helps ensure the dental implants last for decades, if not a lifetime. After we insert several of them, we can attach a custom-made denture to address the gaps and help you enjoy a full smile once more.
The Benefits of Correcting Tooth Loss
By correcting tooth loss, you avoid difficulties eating and speaking, and using dental implants means preserving your jawbone tissue and overall facial structure. Don't let tooth loss have a negative impact on your oral health and overall quality of life. Talk to our team about possible replacement options. We will carefully examine your smile to see which option works best for you. We then create a personalized treatment plan and start the process of restoring the health, beauty, and function of your smile.
Have You Lost One or More Teeth?
If you have gaps in your smile due to tooth loss, then we can help with custom-made dental prosthetics. For more information on dentures and dental implants, then schedule a consultation by calling Smith Family Dentistry in Greenville, TX, today at 903-455-5750. We proudly serve patients from Hunt County, Greenville, and all surrounding communities.