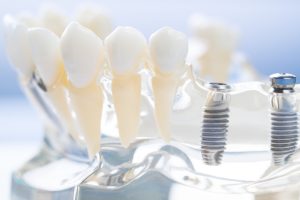 A dental implant doesn't replace missing teeth like bridges or removable dentures. Instead, they act as new tooth roots, offering greater stability. In today's blog, we're going to look at how we place and restore dental implants, and why Greenville, TX, residents should see us to discuss replacing missing teeth.
Creating Your New Tooth
A dental implant consists of three major parts. The first is the implant itself, made from titanium. Since titanium is biocompatible, once we insert this into the jawbone it actually bonds with the bone tissue. After the placement area heals, we then add an abutment. The abutment will be necessary to hold the dental crown in place, the final portion of your prosthetic and the one designed to mimic the appearance of a tooth. Each restoration will be custom-made to blend with the patient's smile and offer natural looking tooth replacement.
Placement and Lifelike Restoration
To begin, we will need to make sure your smile is ready for an implant-secured tooth. First, we want to know that there is enough jawbone tissue to support the new tooth. The jawbone around a missing tooth often deteriorates as the body stops sending nutrients to it once the tooth goes missing. You may need bone grafting to strengthen the bone tissue. We also look for the presence of gum disease, as managing the disease is essential for protecting the stability of your new tooth.
We then use advanced technology and oral surgery to plan and insert the dental implant into the jawbone. The process of osseointegration, in which the new tooth root and jawbone bond, takes between three and four months. Afterward, we proceed with the addition of the abutment and restoration, finishing your new tooth.
What If I Have Multiple Lost Teeth?
The steps we discussed above mainly concern single tooth dental implants. But what if you have lost several of your natural teeth? In these scenarios, we may opt for inserting multiple implants, using them to support a dental bridge or a fixed denture, offering strong and lifelike prosthetics that never slip and remain much longer than traditional, removable dentures or crown-supported bridges. If you have lost one or more of your natural teeth, then please let us know. We want to help you enjoy optimal oral health and a whole, beautiful smile.
Ready for a Whole Smile?
If you have missing teeth, then we may have a strong and natural looking solution. To find out more about implant dentistry and the benefits of addressing your tooth loss, schedule a consultation with Smith Family Dentistry in Greenville, TX call us at 903-455-5750. We proudly serve patients from Hunt County, Greenville, Royce City, Sulphur Springs, and all surrounding communities.