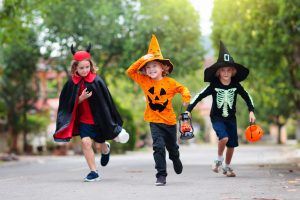 Halloween is less than two weeks away, which means your kids are likely planning their costumes and trick or treat routes! While we love this spooky holiday as much as anyone, we also know that consuming too much candy is a recipe for painful cavities! In today's blog, your Greenville, TX, dentist discusses tips for protecting smiles from cavities.
Limit Candy (and Offer Alternatives)
When kids (and adults) consume candy, this leaves bits of sugar trapped on and between the teeth. Bacteria will consume these particles, a process that causes an increase in oral acidity and coats the teeth in plaque, a buildup that could eventually wear down enamel and cause a cavity to form. To try and prevent this, be sure to limit how much candy your kids can eat each day. Also, encourage them to chase their candy with a glass of water to help cleanse their mouth. Parents can also "buy" their kids candy, letting them exchange it for money or a small toy. If you're handing out treats this year, consider offering individual packages of crackers, trail mix, or nuts. Crayons, Halloween-themed party favors, stickers, and temporary tattoos are also great treats (and great for the smile as well).
Brush and Floss!
To help combat tooth decay, also make sure your little ones are caring for their teeth each day. Just like adults, kids need to brush their teeth for about two minutes each morning, using a soft-bristled toothbrush and a toothpaste that contains fluoride. They should do this before bed, and also floss thoroughly in between each tooth. These steps help remove food particles and limit how much plaque can accumulate on the surface of the teeth.
Schedule a Cleaning
Be sure to schedule a visit as well! Brushing, flossing, and eating candy in moderation helps limit how much plaque can form, but only a professional dental cleaning can remove the buildup from the teeth completely. The cleaning also helps freshen breath and offer brighter teeth as well. Children should see us about once every six months. We can also discuss preventive options, such as fluoride treatments and dental sealants, to help protect smiles from the onset of tooth decay. If you have any questions about children's dentistry or providing your neighborhood a smile safe Halloween, then please contact our team today.
Make Time to See Us!
We would love to help you and your family maintain healthy smiles, avoiding the onset of tooth decay and periodontal problems. With a preventive approach to dental care, we can help your family enjoy stronger smiles! For more information on family dentistry, then schedule a consultation by calling Smith Family Dentistry in Greenville, TX, today at 903-455-5750. We proudly serve patients from Hunt County, Greenville, and all surrounding communities.