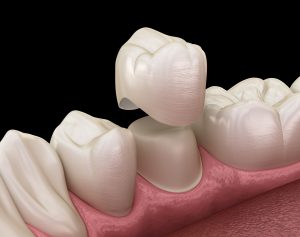 When you have a cavity or an infection, or should a dental emergency such as cracked or chipped tooth develop, then you may need a crown. Fortunately, your Greenville, TX, dentist not only offers dental restorations, but we use advanced technology to create them in a single visit. In today's blog, we're talking about the benefits of our same day dental crowns.
When Do You Need a Crown?
A dental crown is a restoration that covers the entire visible portion of your tooth. In the past, they were only made from amalgam, gold, silver, and other metals. Now, we can employ strong and lifelike materials to ensure a restoration that blends seamlessly with your smile. For example, ceramic mimics the translucent nature of tooth enamel, and can also be shaded to match the color of surrounding teeth. All the while, the material also has the ability to absorb serious bite forces. We may suggest one for an advanced case of tooth decay, or to complete a root canal infection for people with infected teeth. They also address minor and severe breakage, as well as chips and cracks.
The CEREC System
If you begin to experience serious pain in your smile, or if you sustain damage, then contact our team today. We will carefully examine your smile and if we find you need treatment, we will remove structure from the tooth and take detailed digital impressions. The images we gathered will be combined to create a 3D model, allowing us to plan and design your crown. We upload the designs into the onsite CEREC milling machine, which crafts the final product from ceramic. In the same visit, we check the fit, make any necessary adjustments, and then place your finished restoration with a powerful bonding agent. In just one sitting, we can restore you smile to a healthier and more attractive state!
Schedule Your Next Visit
If you haven't seen us in awhile due to the stay-at-home regulations and are ready for an appointment, then contact our team to schedule one. We're taking your health and safety seriously, following strict protocols to ensure the health of our patients and our team members. In addition to ensuring you don't share the waiting room, we'll also cleaning and disinfecting surfaces and tools in between each and every visit. If you have any questions or if you would like to schedule a visit, then contact our team today.
Do You Have Questions About Restorative Dentistry?
Our team wants to offer natural-looking and durable solutions to oral health concerns and emergency situations. To learn more our lifelike dental restorations, schedule a consultation by calling Smith Family Dentistry in Greenville, TX, today at 903-455-5750. We proudly serve patients from Hunt County, Greenville, Royce City, Sulphur Springs, and all surrounding communities.