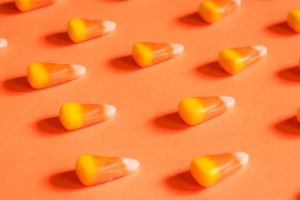 In just a few days people in our community will be celebrating Halloween! Even if you're forgoing trick or treating excursions, you'll likely still end up with an excess amount of candy. Too many sweets could lead to tooth decay, so your Greenville, TX, dentist offers a few tips to help protect smiles both young and old from cavities.
How Do My Treats Cause Cavities?
When we consume candies and other sweets high in sugar, this leaves particles on or between the teeth. If the items were high in caramel and taffy, then they're more likely to become trapped on the smile. Bacteria will break down these particles, and in the process, will elevate levels of oral acidity and coat the teeth in plaque and tartar. These layers then begin demineralizing the outer enamel, eroding it and allowing a cavity to form. The tooth could begin to feel sensitive and ache, and the risk of a serious infection could increase as well.
Safe Halloween Tips
To reduce your cavity risk, try to limit how much candy you and your kids consume after Halloween. Optimally, try to limit yourselves to one to two pieces right after dinner. Then drink a glass of water, as this helps cleanse the smile. You could even let your little ones choose their favorite pieces, and then exchange them in for a toy or another prize. Now, if your house is handing out candy, what if instead you offer a smile healthy alternatives, such as stickers, temporary tattoos, Halloween-themed party favors, or sugar-free gum.
Care at Home
Another excellent way to protect your smiles is to care for them daily at home. Kids and adults alike should start each morning by brushing the teeth for about two minutes, and using a toothpaste that contains fluoride, as this strengthens outer enamel. Before bed, everyone needs to brush again for two minutes and also floss, as flossing removes what a toothbrush's bristles couldn't reach.
Checkup and Cleaning Visits
We also suggest a visit every six months, and one right before the holiday season is a great way to avoid adding stress to an already hectic calendar. We will examine the smile for signs of tooth decay and then recommend treatment options. We also clean the teeth to remove all plaque and tartar, protecting the smile from issues like tooth decay, gingivitis, and gum disease. If you have any questions about preventive care, then contact our team today.
Your Greenville, TX Dentist Provides Preventive Treatments
At Smith Family Dentistry, we want you and your children to maintain good oral health, even after the Halloween holiday. To learn more about protecting smiles from cavities and infection, then contact your Greenville, TX, dentist, Dr. Smith, by calling 903-455-5750.