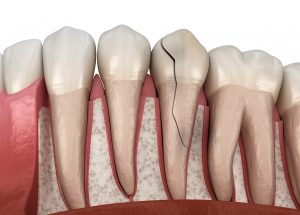 If you have a chipped or cracked tooth, then this could mean eventual pain and even the onset of cavities or infection. Fortunately, your Greenville, TX, dentist offers emergency dentistry, so we can schedule a time to see you and repair your tooth quickly. In today's blog, we're looking at how you should respond to dental emergencies, and when you should give us a call!
The Dangers of a Damaged Tooth
The enamel that coats our teeth protects the inner tissues from exposure to bacteria. Since the inner layers of dentin, and the pulp, are sensitive, exposure would mean the onset of cavities or even an infected or abscessed tooth. Which means when you chip or crack a tooth, even if the damage appears minor, your tooth could develop serious complications unless repaired. If you suffer an injury, take steps to ease your initial discomfort and then give us a call. We will find a time to see you quickly.
Easing Discomfort
First, even if damage isn't visible, rinse your mouth with warm water and then take a pain reliever. Give us a call to schedule a visit. Remember, fractures could be invisible to the naked eye. If the tooth is chipped, see if you can recover any pieces and bring them to the office with you. If not, don't worry, repair is still possible. Use cloth or gauze to control the bleeding, and use a cold compress or ice pack against the side of the face to reduce swelling. If a tooth is knocked out, be sure you pick it up by the crown, not the root, and place it in a glass of milk or salt water and bring it the office with you.
Possible Treatment Options
For minor chips and cracks, we may be able to offer repair in only one visit with dental bonding. The bonding procedure uses the same lifelike and metal-free composite resin we employ as part of our tooth-colored dental fillings. For more substantial cases of injury, we could also create a durable dental crown from lifelike materials, returning your smile to optimal health and function. If your lost tooth cannot be returned to your smile, we also have prosthetics, such as dental bridges, to fill the gap.
Protect Your Smile
To help keep your smile safe, be sure you wear a mouthguard when playing sports. Also, practice good oral hygiene, as a tooth free of decay or infection is much stronger and better able to withstand common injuries.
Your Greenville, TX Dentist Provides Emergency Care
At Smith Family Dentistry, we want to help restore damaged teeth to optimal health, function, and beauty. To learn more about our approach to emergency dental care, then contact your Greenville, TX, dentist, Dr. Smith, by calling 903-455-5750.