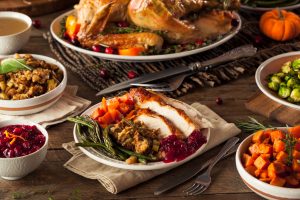 Thanksgiving is fun holiday filled with laughs, visits with old friends and family, and of course, our favorite holiday fare. However, this year the celebrations may be much smaller, but you're still going to enjoy your sugary and starchy favorites. In today's blog, your Greenville, TX, dentist has tips to protect your smile from cavities!
The Risks Posed by Sugar and Starch
Did you know that two main components of our holiday favorites could be a factor in the onset of both tooth decay and gingivitis? Sugar, found in cakes, pies, cranberry sauce, and more, as well as starch, a main ingredient of stuffing, biscuits, muffins, yams, and potato-based dishes, both cling to the teeth. They are more likely to remain behind on your smile to be broken down by bacteria. As bacteria consume them, this elevates overall oral acidity, and coats the teeth in a layer of plaque buildup. This buildup not only causes teeth stains and bad breath, but increases the risk of tooth decay and gum disease by weakening enamel and inflaming gum tissues.
Healthy Mealtime Tips
To help lower your risk, you should take a few steps at your big Thanksgiving feast. First, try to limit the mouth of sugary and starchy foods you consume. We also suggest chasing them with water, as this helps keep you hydrated, contains no sugars and acids, and also cleanses your smile. Adding a few fresh vegetables and fruits to your plate could help scrub away food particles and plaque too.
Be Sure to Floss!
Routine oral hygiene steps can also help protect your smile during the holidays. After your meal, and each evening, you should floss up and down each side of every tooth, and dip below the gum line when you do, to remove trapped bits of food. You also need to brush your teeth when you wake up and again before going to bed, with each session lasting about two minutes. A fluoride toothpaste also helps by strengthening the outer tooth enamel.
Dental Cleanings
Consider scheduling a visit for a checkup and cleaning too, so we can keep an eye on your smile and remove all plaque and tartar. You also have a chance to use your remaining 2020 dental insurance benefits or health savings account funds before they expire at the end of December.
COVID-19
To protect you and your family, be sure to avoid large indoor gatherings, wear a mask, and wash your hands frequently!
Your Greenville, TX Dentist Is Ready to See You
At Smith Family Dentistry, our team is here to help you and your family enjoy optimal oral health and start 2021 with a better smile. To learn more about our approach to preventive dental care, then contact your Greenville, TX, dentist, Dr. Smith, by calling 903-455-5750.