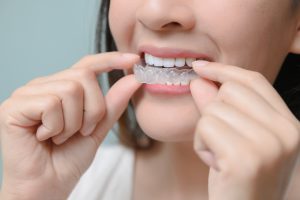 When you have poor alignment, this could mean issues with the beauty of your smile, and also lead to negative impacts on oral health too. In today's blog, your Greenville, TX, dentist explains how we offer better smiles with Invisalign®, a series of clear and comfortable aligners custom-made for your smile!
The Dangers of Crooked, Crowded, and Overlapping Teeth
How does an uneven smile impact oral health? Well, alignment issues could make thoroughly brushing and flossing your teeth difficult. Even if you do so correctly, food particles could still remain trapped in your smile to be consumed by bacteria, leading to tooth decay and gum disease. Alignment issues could also upset bite balance and strain jaw joints, complications linked to painful disorders like TMD and bruxism (chronic teeth grinding). For others, uneven teeth could make them self-conscious about their smile. By correcting alignment, we improve oral health and smile beauty at once!
The Invisalign® System
Now, let's talk about how the Invisalign® system works. Instead of relying on metal brackets and wires to shift the teeth, we use a series of aligners that fit over the teeth. Crafted from clear plastic, they will be nearly invisible when worn. We start the process by taking detailed digital images of your smile, which will be used in a lab setting to design and then craft your custom appliances. Each set is then worn for 20 to 22 hours at a time over a period of about two weeks. After this, you upgrade to the next in the series. Over a period of about a year, this could correct the overall alignment of your smile!
The Benefits of Removable Braces
First, the total treatment time is often shorter than what is required for braces. In addition, they will be barely noticeable, which is preferred for our teen and adult patients. The aligner also fits comfortably and prevent gum and cheek irritation. You can remove them before each meal, so you don't have to avoid certain foods or worry about bits of your meal being stuck in your orthodontics. Brushing and flossing is much easier too, as you take out your aligners instead of trying to work around them with a toothbrush and floss. If you have any questions about correcting your uneven teeth with a series of clear and comfortable removable braces, the contact our team today! We're ready to help you make big changes for the appearance and health of your smile in 2021.
Your Greenville, TX Dentist Offers Cosmetic Orthodontics
At Smith Family Dentistry, we want to help address uneven teeth with a series of clear and cozy orthodontic aligners. To learn more about our cosmetic approach to even smiles, then contact your Greenville, TX, dentist, Dr. Smith, by calling 903-455-5750.