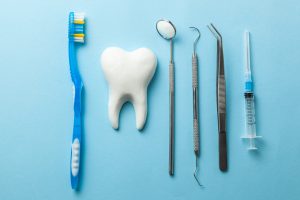 A dental checkup means that every six months, we take a close look at your smile with advanced diagnostic technology, so we know exactly what is going on with your teeth and gums. We then have the chance to offer treatment for problems in the earliest stages. In today's blog, your Greenville, TX, dentist will explain what we look for during a checkup!
You Need An Exam Twice a Year
First, how often should you see the dentist for a routine exam? We suggest one every six months for people ages two and older. Since common oral health issues, such as tooth decay and periodontal disease, take months to form, a regular visit means we can catch the issues in the earliest stages. We could prevent painful cavities and infection, and reverse gingivitis before gum disease develops. If you already have gum disease, then we may suggest a visit every three to four months instead, so we can remove buildup more frequently and prevent periodontitis, the advanced stage linked to adult tooth loss.
The Exam Process
During your exam, our team will take a close look at your smile advanced technology. These diagnostic systems enable us to closely look at the teeth and gums, as well as roots and oral structures. We identify issues like cavities, infection, gingivitis, and gum disease, as well as TMJ disorder and bruxism (teeth grinding). Our team will also look for impacted teeth, wisdom teeth, and other issues that need attention. For adults, we will also screen for oral cancer once a year. The earlier we catch the disease, the more likely a full recovery. A checkup only takes a few minutes, and helps us diagnose your smile, and also offer tips for improving you overall oral health from home.
What Happens Next?
During the same visit, we will also clean your teeth, which means removing all harmful plaque and tartar buildup from the surfaces of your teeth. The teeth will then be polished, ensuring a brighter appearance and smoother finish. If we found any issues that need attention, we will discuss treatment, such as a filling placement. We will also schedule your next visit as well! If you have any questions about the checkup process, or if you would like to schedule a visit for you or a member of your family, then please contact our team today. We would vole to see you and your family!
Your Greenville, TX Dentist Provides Thorough Checkups
At Smith Family Dentistry, we know that regular visits are crucial for protecting the health of your smile. To learn more about the value of our routine exams and cleanings, then contact your Greenville, TX, dentist, Dr. Smith, by calling 903-455-5750.