Brushing and flossing your teeth are cornerstones of maintaining good oral health. When these actions are a part of your daily routine, you are taking great strides to ensure you have healthy teeth and a happy mouth. While these efforts are essential, you should also incorporate regularly scheduled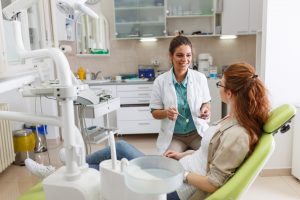 checkups, as major issues can still arise — despite ample brushing. In today's article, your Greenville, TX, dentist talks about the importance of checkups and describes the specific things they can find during thorough examinations. 
What To Expect During A Checkup
During your exam, your dentist will thoroughly inspect your teeth and gums. They will make sure there aren't any issues lurking beneath the surface. From there, depending on what they find, they will recommend treatments and services that would benefit your oral health. During the checkup, your dentist will look for cavities and signs of gum disease. If any are found, they may recommend fillings. They may also utilize advanced dental technology to screen for assorted issues and to cultivate a less intrusive experience, overall. Furthermore, they will also look for signs of oral cancer. You should also take this time to ask your dentist about anything that might be bothering you in your mouth. 
Oral Cancer Screening
As mentioned above, an exam is the time to have your mouth looked at for signs of oral cancer. This disease can affect anyone, so it is essential for your dentist to thoroughly inspect your mouth every time you come in. They will look for sores, lesions, lumps, and any other abnormalities. If you have anything unusual in your mouth, there is no need to panic. Your oral health care provider will keep you abreast of every step along the way. While your dentist will communicate any updates to you, you should still be cognizant of any potential symptoms on your own. These may include persistent throat pain, earaches, a change in your voice, and sudden weight loss.
At-Home Tips
While checkups can help find lingering issues in your mouth, you can still take precautions at home to minimize the chance of anything developing. For starters, brush your teeth twice a day and floss every night. Avoid sugary drinks and foods as well. Drinking excessive amounts of alcohol and consuming tobacco are contributors to oral cancer, so avoid these to improve your overall health. Finally, eating a balanced diet can have major benefits for the health of your mouth.
Contact Us To Learn More About Checkups
To schedule an appointment for an exam and a cleaning, do not hesitate to ​​contact your Greenville, TX, dentist, Dr. Smith, by calling 903-455-5750. You can also find us at Medical Arts Plaza 4818 Wellington Street, Suite 3 Greenville, TX 75402 We proudly serve patients from Hunt County, Greenville, Royce City, Sulphur Springs, and all surrounding communities.