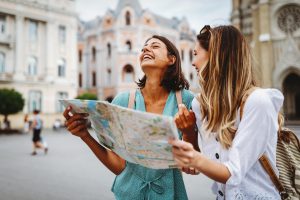 With traveling becoming an option again, you could be thrilled at the thought of booking a getaway. With all the excitement of visiting a new place and taking in sites previously unseen, it is easy to let your normal oral care habits go by the wayside. This is totally normal, as your mind is just focused on enjoying the experience of venturing to new locales. That said, there are some easy ways to maintain your smile, like keeping up with your regular brushing and flossing while on the road. In today's blog, your Greenville, TX, dentist discusses travel tips that will help you keep your teeth healthy no matter where you go. 
Start Your Travels With A Visit To The Dentist
Before you leave town, it is a good idea to schedule a check-up and cleaning. You will be able to relax knowing that everything looks healthy and that you probably won't have any surprises to deal with in a new, unfamiliar place. If there is something out of the ordinary, your dentist will spot it before you leave, and they will either be able to take care of it before you depart, or they can give you tips to maintain your oral health while away. What's more is that a professional cleaning will leave your mouth feeling fresh, and you will feel confident with your smile as you explore your vacation spot. 
Easy Tips While You're Travelling
Make sure you have all of your dentist's contact information when you're away. If you think something might be amiss or there seems to be an emergency, you can call them to ask questions, and they'll be able to provide helpful insights and advice. They might say that you're fine and can wait until you're home if the fix is something minor. If your dentist thinks you might need an immediate extraction, for instance, they could suggest visiting a local dentist. If you are traveling overseas, you should ask for dentist recommendations from the U.S. Embassy or the local consulate. 
When you pack your toothbrush, make sure it is in a sealable plastic bag or a dedicated container, separate from everything else. It is crucial for it to remain dry to prevent bacteria build-up. If you happen to find yourself without a toothbrush for any reason and are not able to buy one immediately, you can vigorously rinse out your mouth with water to dislodge food particles. You can also put a little bit of toothpaste on a clean finger and use that as a temporary measure to have fresher breath
If you are somewhere that has questionable water quality, you should use bottled water to brush and rinse your mouth. The last thing you want when overseas is to get sick from the water. Once you get back from your trip, just reestablish your routine of brushing twice a day and flossing each night. 
Contact Us For More Travel Tips
If you have questions about staying healthy while traveling, please do not hesitate to talk to us. You can schedule an appointment by contacting ​​your Greenville, TX, dentist, Dr. Smith, at 903-455-5750. You can also find us at Medical Arts Plaza 4818 Wellington Street, Suite 3 Greenville, TX 75402.