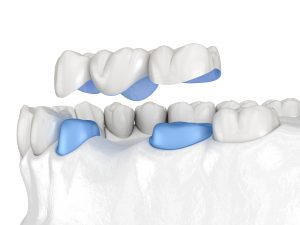 Did you know that dental bridges can affect more than the look of your smile? While they can fill in the space left by a missing tooth, they can also benefit the overall health of your mouth. In today's blog, your Greenville, TX, dentist discusses the circumstances that necessitate this prosthetic and describes the ways it can help you achieve the smile you have always wanted.
What Is A Dental Bridge?
It is a prosthetic tooth — also known as a pontic — that fits into a gap in between existing teeth. It is supported by the teeth on either side of the gap, hence the name, and fills in the space seamlessly. The existing teeth (or abutments) are fitted with crowns to support the bridge, which helps ensure its longevity and durability. The prosthetic is made from high-quality, bio-compatible porcelain and is virtually indistinguishable from your natural teeth. It is color-matched to ensure a realistic look, and it can support the full bite pressure you need. Bridges are typically used when there is either a single tooth missing or there are a few next to one another. 
What Are The Benefits?
In addition to adding a tooth to where there previously wasn't one, a dental bridge has myriad benefits. For starters, it can improve chewing. Not only will you regain a more natural feeling while eating, but a pontic also prevents food particles from collecting in an empty socket, which, if not filled, can lead to an excess of bacteria. In the case of multiple missing teeth, you might notice issues with speaking. A full, natural set of teeth shapes how you talk, so a lack of them can negatively impact your oratory capabilities. Furthermore, once you lose a tooth, your jawbone begins to deteriorate, so adding in a bridge can help maintain the structural integrity of not only your jaw but also your entire face. Finally, having a pontic put in can help prevent the placement of your other teeth from shifting out of alignment; while teeth are mostly supported by roots in your gums, they are also supported by other teeth.
It Is Easy To Maintain
Luckily, despite being considered a prosthetic procedure, it is easy to take care of. All you need to do is treat it as you would your existing natural teeth. Brush twice a day with non-abrasive toothpaste and floss each evening. It is also essential to come in for cleanings and checkups every six months. If you do these things, your oral health will be fantastic.
Schedule An Appointment To Learn More About Dental Bridges
If you have more questions about this procedure, do not hesitate to contact us today. Call ​​your Greenville, TX, dentist, Dr. Smith, at 903-455-5750. You can also find us at Medical Arts Plaza 4818 Wellington Street, Suite 3 Greenville, TX 75402. We also serve patients from Hunt County, Greenville, Royce City, Sulphur Springs, and all surrounding communities.